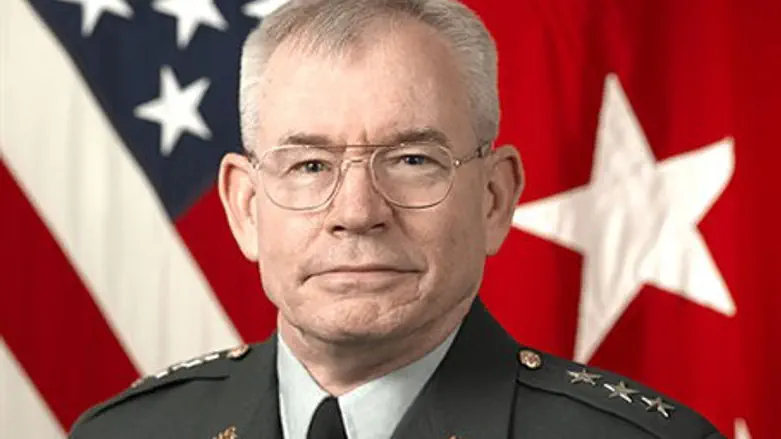 LTG Ronald Burgress
US Army Photo
Defense Intelligence Agency director Lieutenant General Ronald Burgess told US lawmakers Thursday that Iran is nowhere near giving up its nuclear aspirations.
The DIA chief's comments closely echoed Israeli Prime Minister Binyamin Netanyahu's statement in Nicosia that sanctions Iran sanctions are "not working."
Burgess told a Senate Armed Services Committee hearing that despite the ratcheting up of sanctions on Iran, leaders in Tehran are unlikely to abandon their drive for nuclear weapons.
The United States, its Western allies, Israel, and Gulf Arab nations say Iran's nuclear program is aimed at developing weapons.
Burgess predicted Iran would respond if attacked but was unlikely to start a conflict itself.
"Iran can close the Strait of Hormuz at least temporarily, and may launch missiles against United States forces and our allies in the region if it is attacked," Burgess told the lawmakers..
"Iran could also attempt to employ terrorist surrogates worldwide. However, the agency assesses Iran is unlikely to initiate or intentionally provoke a conflict," he said.
Asked bluntly whether intelligence agencies believed Israel had made a decision to attack Iran, Burgess said, "To the best of our knowledge Israel has not decided to attack Iran."
On the efficacy of sanctions, Burgess pointedly said Iran was nowhere near giving up its nuclear aspirations.
"Iran today has the technical, scientific and industrial capability to eventually produce nuclear weapons. While international pressure against Iran has increased, including through sanctions, we assess that Tehran is not close to agreeing to abandon its nuclear program," Burgess said.
Burgess' testimony was given on the same day that US officials targeted Iran's Ministry of Intelligence and Security (MOIS) with new sanctions for supporting terror and abusing the human rights of Iranian citizens.