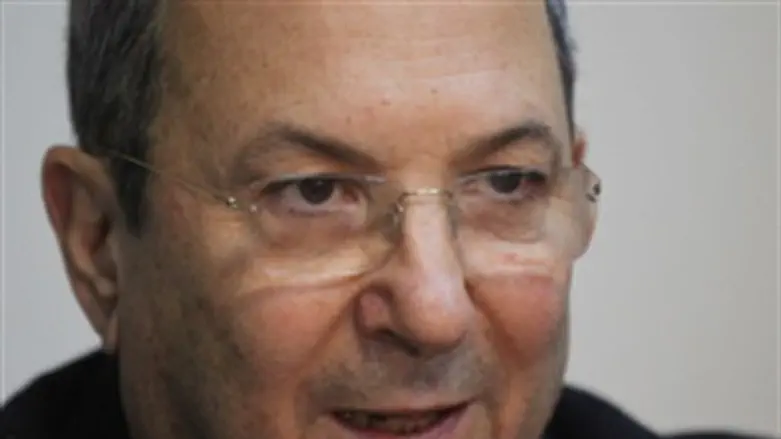 Ehud Barak
Israel news photo: Flash 90
A report in an Arab newspaper Thursday said that the Mossad, in cooperation with Singapore security forces, in recent days managed to foil a terror attack targeting Defense Minister Ehud Barak. The report, in the Kuwaiti Al-Jarida newspaper, is based on conversations with "senior Israeli sources" who said that the increased security by Israeli forces since the terror attacks in India and Georgia earlier this week have paid off.
Barak is in Singapore for an international aviation exhibition. According to the sources, Barak was targeted by several Iranians during the trip. Three Iranians, working with Hizbullah, had gathered information about Barak's schedule in preparation for what was most likely to be a shooting attack.
Israeli intelligence officials alerted Singapore security forces about the impending attack even before Barak arrived in the country earlier this week, and the three Iranian terrorists were arrested in what the paper called a "secret operation." The sources did not say how the plot was uncovered, but the three are now in custody, with Israeli officials participating in their interrogation in order to gather information about future planned attacks, the report quoted the sources as saying.
The Defense Ministry issued a statement Thursdau afternoon, saying that they were "unaware of any such incident, and apparently it did not take place." In the past, Al-Jarida has been considered to be a reliable source, some Israeli officials said Thursday. Barak left Singapore Wednesday for Japan.

On Thursday, the Foreign Ministry issued a travel warning for Israelis in Thailand. The warning said that in the wake of the attacks on Israelis in India and Georgia earlier this week, Israelis should "act with caution" when traveling in Thailand. Similar warnings were released Thursday for travelers to Italy, Norway, and Taiwan.