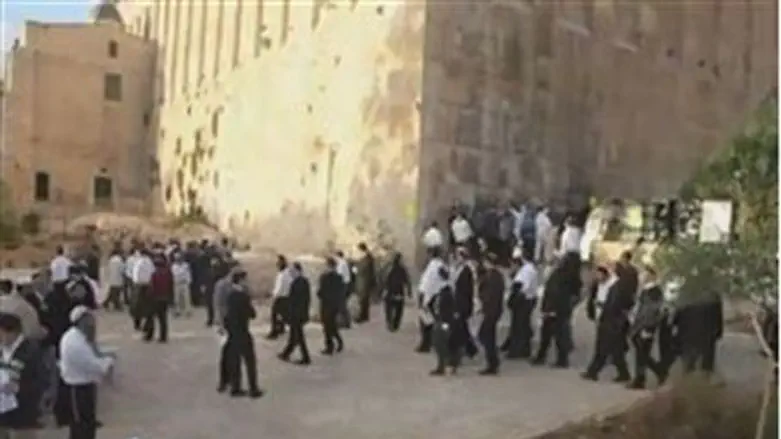 Cave of Patriarchs
Israel news photo: David Wilder
The Palestinian Authority wants UNESCO to declare the Patriarchs' Cave and Rachel's Tomb as its heritage sites while Israel is excluding them from its own list.
A government committee headed by Prime Minister Binyamin Netanyahu is meeting Tuesday morning to decide on adding 16 more sites to Israel's official list of heritage sites, but the Bible-based Patriarchs' Cave and Rachel's Tomb are not among them
Rabbi-Professor Daniel Hershkowitz, Science and Technology Minister and head of the Jewish Home party, issued an urgent appeal to Cabinet Secretary Tzvi Hauser that the two sites be included.
The government committee on heritage sites is headed by Prime Minister Binyamin Netanyahu and includes Hershkowitz as a member.
"I am asking you to again review my position that the committee determining heritage sites include Rachel's Tomb and the Patriarchs' Cave," the Cabinet minister wrote. "These sites already receive government funds for development and maintenance, and their inclusion will not require a change in budget allocations." he added.
He stated that excluding the holy sites from the list would be totally unacceptable by the public.
The Palestinian Authority, which recently was admitted as a member of the United Nations UNESCO agency, is using the sites in its campaign to claim sovereignty over Judea and Samaria. The Patriarchs' Cave is located in Hevron, between Jerusalem and Be'er Sheva, and Rachel's Tomb is located immediately adjacent to Jerusalem and Bethlehem.
Hershkowitz noted in his letter that both sites are deeply rooted in Jewish history. Tens of thousands of Jews visit each site every year.
The Palestinian Authority has claimed they are Muslim sites, even though Islam was not founded until about 1,400 years ago.