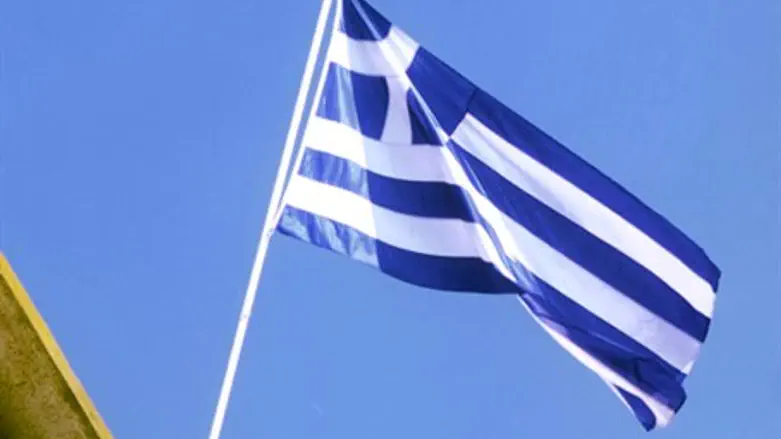 Greek flag
Israel news photo: Flash 90
Greece's parliament approved late Sunday night an austerity and debt-relief bill, crucial for the country to avoid bankruptcy and remain in the eurozone, The Associated Press reported.
Lawmakers voted in favor of the bill that imposes harsh new austerity measures in return for a euro130 billion ($171 billion) new bailout agreement and related deal with private creditors to shave euro100 billion ($132 billion) off the country's national debt.
The vote occurred after at least demonstrators set at least ten buildings on fire and looted dozens of shops across central Athens.
AP reported that more than 100,000 demonstrated outside parliament, and that dozens of people have been injured and police detained more than 20 suspected rioters.
The demonstrators are angry at the drastic cuts, which will ax one in five civil service jobs and slash the minimum wage by more than a fifth.
Among the buildings set on fire were a movie theater, bank and cafeteria, AP reported. Dozens of police officers and at least 37 protesters were injured, and more than 20 suspected rioters were detained.
Meanwhile, Prime Minister Lucas Papademos urged calm and pointed to the country;s dire financial straits.
"Vandalism and destruction have no place in a democracy and will not be tolerated," AP quoted Papademos as having said in Parliament. "I call on the public to show calm. At these crucial times, we do not have the luxury of this type of protest. I think everyone is aware of how serious the situation is."
Greece has survived on a $145 billion (euro110 billion) bailout from its European partners and the International Monetary Fund since May of 2010. When that proved insufficient, a new rescue package worth a further $171 billion (euro130 billion) was approved, combined with a massive bond swap deal that will write off half the country's privately held debt.
However, AP noted, for both deals to materialize Greece has to persuade its deeply skeptical creditors that it has the will to implement spending cuts and public sector reforms that will end years of fiscal profligacy and tame gaping budget deficits.
According to the AP report, during Sunday's demonstrations security forces fired dozens of tear gas volleys at rioters, who attacked them with firebombs and chunks of marble broken off the fronts of luxury hotels, banks and department stores.
Clouds of tear gas drifted across the square, and many in the crowd wore gas masks or had their faces covered, while others carried Greek flags and banners.
Despite the protesters, however, AP reported that Papademos' government is expected to carry the austerity vote, even by a narrow margin.