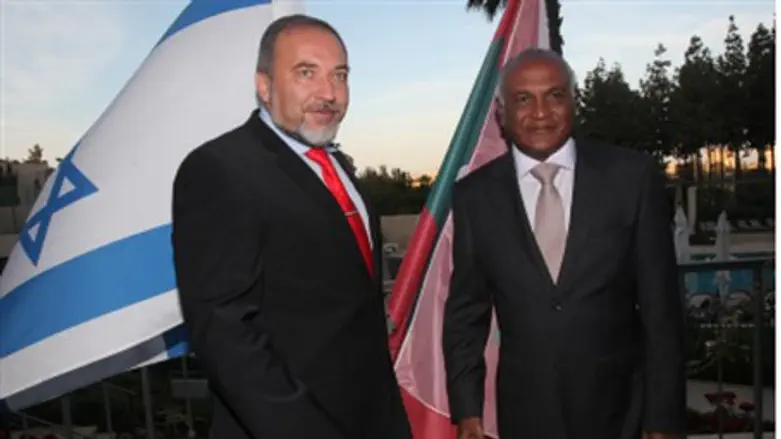 Israel FM Lieberman, Maldives FM Ahmed Naseem
Israel news photo: Flash 90 / archives
Israel's Foreign Ministry has warned its citizens against traveling to the Maldives due to a revolt by police.
A Muslim island nation in the Indian Ocean, the Republic of Maldives is in chaos after a military-backed coup wiped out a nine-year-old democracy earlier this week.
President Mohamed Nasheed was toppled from power after having become the country's first democratically elected president in 2008.
Bloody clashes between riot police and the president's supporters marked the streets of the capital of Male.
Israel's Foreign Ministry has urged any Israelis present in the country to be extremely careful and avoid the capital, any government offices, and any populated area.
Israelis who are in the 1,200-island nation, best known for its luxurious tourism industry, have been asked to contact the Foreign Ministry immediately.
The two countries do not officially have diplomatic relations, although in the past, they have enjoyed close ties.
In November 2010, the Islamic Foundation of the Maldives called on the government to "shun all medical aid from the Zionist regime" when an Israeli team of seven eye surgeons visited the country. The doctors came as volunteers with a joint Israeli humanitarian project to treat patients at the government hospital for a week.