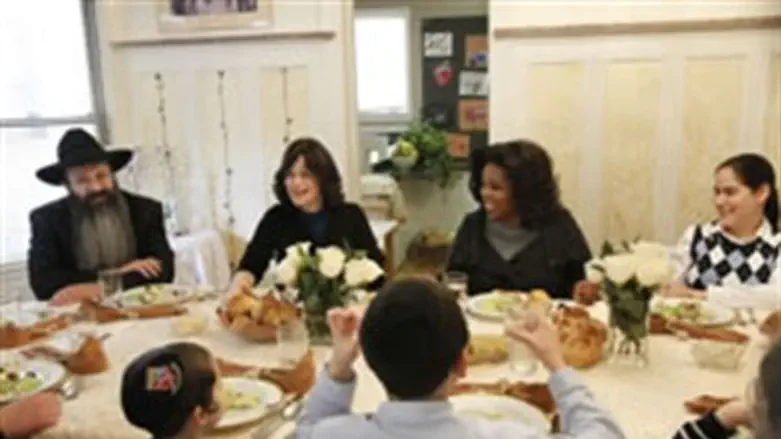 Oprah Winfrey with a Chabad Family
George Burns / Harpo, Inc. / Chabad.org
Oprah Winfrey spent the day with Chasidic families in Crown Heights, New York, as a part of her new show, "Oprah's Next Chapter," on the Oprah Winfrey Network.
She told Chabad.org that "Judaism's focus on family life and on developing individuals' innate potential offers a wealth of lessons for people all over the world."
Winfrey stated, "What's gonna happen when people see this family and see that it's possible that in the United States of America, in Brooklyn, you can have nine children and none of them are watching television, and none of them are on computers all day long, and none of them are sassing their parents, and they're well-mannered and live in harmony with their families."
Oprah Winfrey spent time with two Jewish families and enjoyed a traditional Jewish meal. At the end of her visit she remarked, "The moment I walked into the Ginsbergs' home, I felt welcomed and I felt a sense of warmth, and I felt a sense of family and comfort and values… There's a sense of reverence for acknowledging that there [is] the power of God that is greater than yourself."
Jewish Family Life Inspires Oprah Winfrey
George Burns / Harpo, Inc (chabad.org)