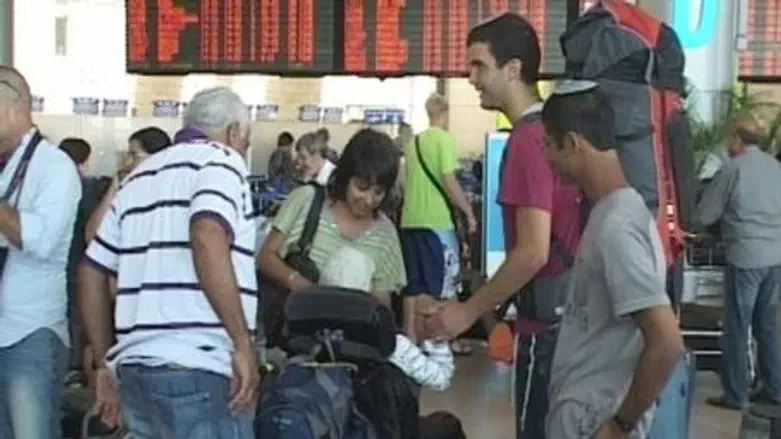 Ben Gurion Airport: just before taking off.
Yoni Kempinski
Both the Histadrut and the Treasury gave up some ground in order to make a deal to end the two day general strike in Israel Thursday. Two separate agreements were signed, for public and private sector workers, improving the salaries and work conditions of contract workers in both sectors, Histadrut officials said.

The strike had been called over the government's refusal to commit to absorbing thousands of contract workers – workers who do not have union contracts and do not receive the same salary and benefits as "regular" workers – as permanent hires. Over the past several months, the Histadrut, Israel's main workers' union, conducted several work actions over the issue, and sued the government in court demanding that the practice stop. Last week, the National Labor Court gave the union permission to call a strike over the issue. The strike began Wednesday, closing down financial institutions, government offices, universities, ports and banks, and caused significant delays for passengers at Ben Gurion Airport.

After negotiating throughout the night Wednesday, the two sides reached a compromise. Reports said that, according to the deal, some 800 contract workers in government offices would be given permanent status. The workers' salaries will be increased significantly, and they will be given pensions and other benefits. In addition, contract workers in the private sector would be given raises and benefits, although they will not be offered regular employment positions. The government also agreed to increase the number of supervisors who visit businesses to ensure that laws on work conditions were being fulfilled properly.

The deal applies mostly to cleaning workers and security guards, who comprise the bulk of contract workers. The salaries of these workers in the public sector will rise to about NIS 4.500, and likely a similar amount in the private sector. Altogether, the deal will cost the state NIS 800 million (about $220 million), Treasury officials said.