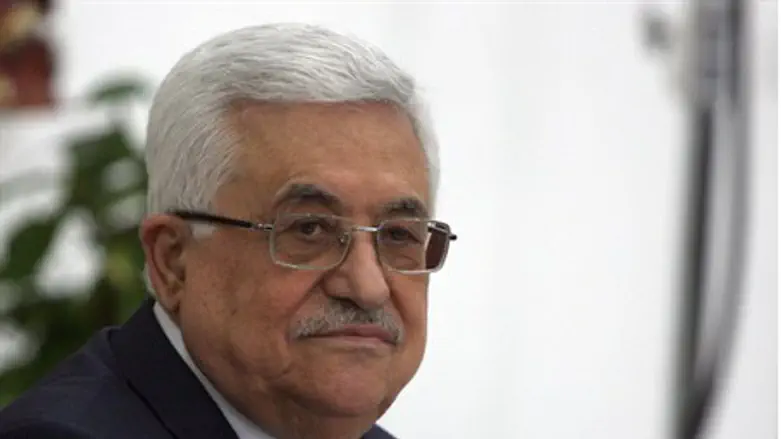 PA Chairman Mahmoud Abbas
Israel news photo: Flash 90
Middle East expert Professor Moshe Sharon, Professor Emeritus in the Department of Islamic and Middle Eastern Studies at Hebrew University in Jerusalem, said on Tuesday that the reconciliation agreement that was signed between Palestinian Authority Chairman Mahmoud Abbas' Fatah faction and the Hamas terror group unveiled Abbas' true colors.
Abbas and the head of Hamas' political bureau, Khaled Mashaal, met in Qatar Monday and signed an agreement according to which Abbas will head the interim government, which will be made up of "independent technocrats."
On Tuesday, a member of the central committee of Fatah said the new PA interim governmentwill be presented on February 18 in Cairo.
"The negotiations with the Palestinians have been going on for 40 years, and they've never had a chance. We wanted to end the conflict, and they want to destroy Israel," Prof. Sharon told Arutz Sheva. "The Palestinians want to bring back millions of refugees and they want Jerusalem. They want to destroy the Jewish communities in Judea and Samaria and to return to the borders from 1947, before the State of Israel was established. The signing of this agreement is basically the same as giving official approval, in front of the world, to their desire to destroy us. Hamas has always called to destroy Israel and now Fatah is joining it."
He added that the unity agreement is intended to realize the common goal of all the Arabs – Israel's demise.
"They want to show that there is unity among all the factions, as if there is one Palestinian territory," Prof. Sharon said. "They do not want to continue in a situation in which there is a state in Gaza with its own prime minister, and another entity in Judea and Samaria. They want to show these two areas as belonging to one Palestinian entity. This is a show which is designed to harm the State of Israel."
Prime Minister Binyamin Netanyahu responded to the unity agreement and said the PA "can't have it both ways."
"I have said many times in the past that the Palestinian Authority must choose between an alliance with Hamas and peace with Israel," Netanyahu said. "Hamas and peace do not go together. Over the past few weeks, Israel and elements in the international community have made great efforts to advance the peace process.
"If Abu Mazen implements what has been signed in Doha," Netanyahu continued, "he will have chosen to abandon the way of peace and to join with Hamas, without Hamas having accepted the minimal conditions of the international community."