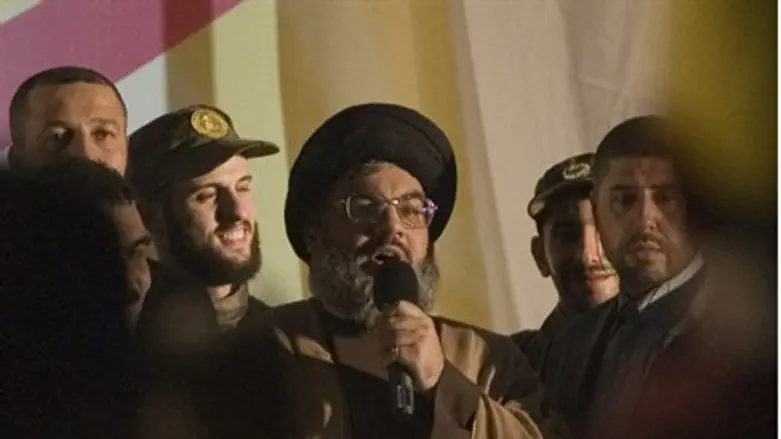 Hassan Nasrallah
Israel news photo: Flash 90
A special UN-backed court probing the murder of former Lebanese Prime Minister Rafik Hariri in 2005 said on Wednesday it will try four members of the Hizbullah terror group in absentia.
The Hague-based court said in a statement quoted by AFP, "The trial chamber of the Special Tribunal for Lebanon has decided to try the four men accused of the 14 February 2005 attack in their absence. The trial chamber concluded that all reasonable steps have been taken to secure the appearance of the accused and to notify them of the charges against them."
Last August, the STL formally published indictments naming four Hizbullah terrorists for involvement in the assassination of Hariri and 22 others in a truck bombing in 2005.
The four, Mustafa Amine Badreddine, Salim Jamil Ayyash, Hussein Hassan Oneissi and Assad Hassan Sabra, are still at large. Lebanon has said it cannot locate them, while Hizbullah leader Hassan Nasrallah has vowed never to turn them in. The terror group has dismissed the court as a U.S.-Israeli conspiracy.
"The trial chamber examined numerous documents from the tribunal's prosecutor and the Lebanese prosecutor-general, which detail the steps taken by the Lebanese authorities to apprehend the accused and inform them about the proceedings," the STL statement said.
It added, "These efforts included multiple attempts by the Lebanese authorities to find the accused at their last known residences, places of employment, family homes and other locations."
The statement noted a trial in absentia was "a last resort to ensure the pursuit of justice is not paralyzed by those who choose to abscond."
There was no immediate reaction from Hizbullah, AFP reported, but MP Aammar Houry, a member of the pro-Western opposition bloc headed by Hariri's son and former prime minister Saad Hariri, welcomed the STL's announcement.
"This announcement confirms that nothing will hinder the process of justice and the quest for the truth," he told AFP, adding, "This court is strong and unwavering."