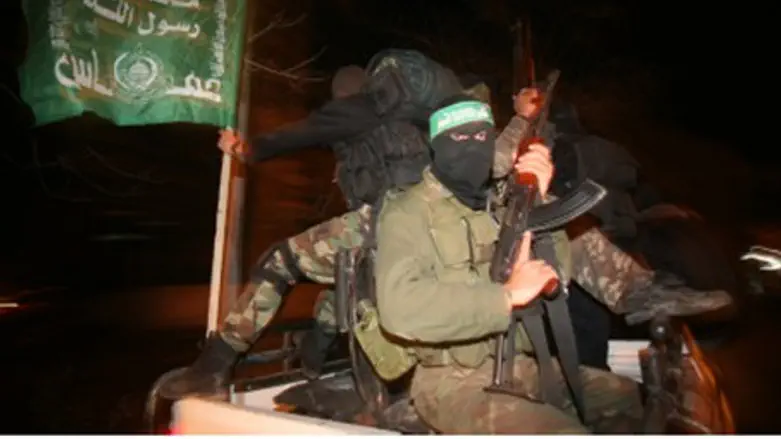 Hamas terrorists (archive)
Israel news photo: Flash 90
Is Hamas about to end its long-time alliance with Iran? According to a report on Kol Yisrael radio on Wednesday, Arab sources are saying that a new camp within Hamas which is interested in ending the terror group's relationship with Iran.
The report said the group's deputy politburo chief Moussa Abu Marzouk is a member of this camp, but that he believes that Hamas should not disassociate itself from Iran without receiving something in return.
Kol Yisrael cited one report in the Arab press which said that Abu Marzouk told one of his associates in Jordan that Hamas cannot abandon Iran without finding an alternative among the other Arab countries. The report said that some Hamas officials have also objected to the upcoming visit to Tehran by the group's Prime Minister, Ismail Haniyeh.
Meanwhile, Hamas and Jordan seem to have gotten closer recently. Earlier this week, Mashaal met with Jordan's King Abdullah II in Amman, in his first visit to Jordan since being expelled from it in 1999.
A senior Jordanian official said on Monday that despite the high-profile meeting between Mashaal and the king, Amman's ban on the terror group will not be lifted. The official added that "Hamas will not be allowed to reopen its offices in Jordan."
The exiled Hamas leader holds a Jordanian passport, but the kingdom expelled him and four other Hamas leaders in 1999 for "illicit and harmful" activities, forcing Mashaal to establish his headquarters in Syria.
With the Syrian government's crackdown on protesters, however, Mashaal has reportedly abandoned the terror group's offices in Damascus and is looking for a new base of operations.
The Kol Yisrael report noted that Hamas leader Mahmoud a-Zahar has said he believes that Jordan is getting closer to Hamas because it recognizes the rising power of Islamic elements in the region.
The report cited an interview a-Zahar gave to a television station affiliated with the Islamic Jihad, in which he said that no Arab regime can see the changes in the Arab world and ignore them. A-Zahar warned that it would not be wise for the Arab regimes to wait until struggles break out in their own countries.