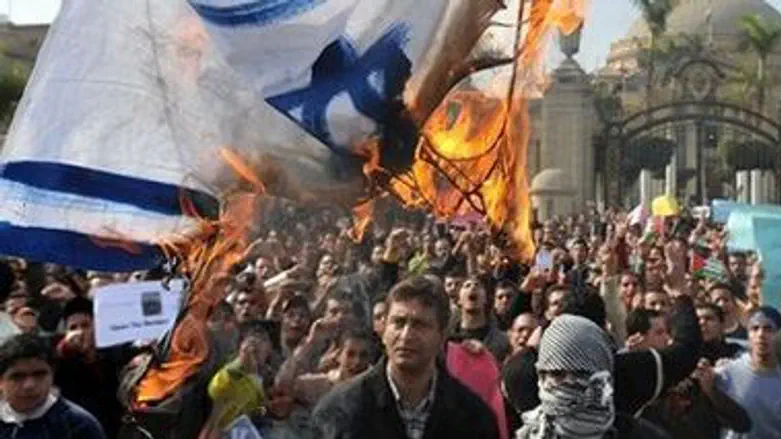 Cairo rioters burn Israeli flag
Israel news photo: Hamas Al Qassam
Iran is maintaining close contact with the Muslim Brotherhood and wants diplomatic relations in Egypt, Iran's foreign minister says.
"Tehran is in constant contact with the Muslim Brotherhood" and will send an ambassador to Cairo if Egypt agrees, Iranian Foreign Minister Ali Akbar Salehi told the Egyptian daily Al-Masry Al-Youm.
An Iranian-Egyptian alliance would give Iranian President Mahmoud Ahmadinejad a strategic ally on Israel's southern border along with Hamas in Gaza and Hizbullah in Lebanon.
Salehi said Iran is ready to promote its diplomatic relations with Egypt to the ambassadorial level, particularly in light of the Muslim Brotherhood's recent ascendancy to power. The group's party, the Freedom and Justice Party, controls 43 percent of parliamentary seats.
Some countries "are not happy about improving relations between Egypt and Iran," he said but insisted that it would be beneficial if there were cooperation between Egypt, Iran, Turkey and Saudi Arabia.
Egypt and Iran severed official ties in 1979 after the Islamic revolution and the signing of the Egyptian-Israeli peace treaty. Relations have markedly improved since the Arab Spring rebellion ousted former President Hosni Mubarak and ushered the radical Brotherhood into a dominant force.