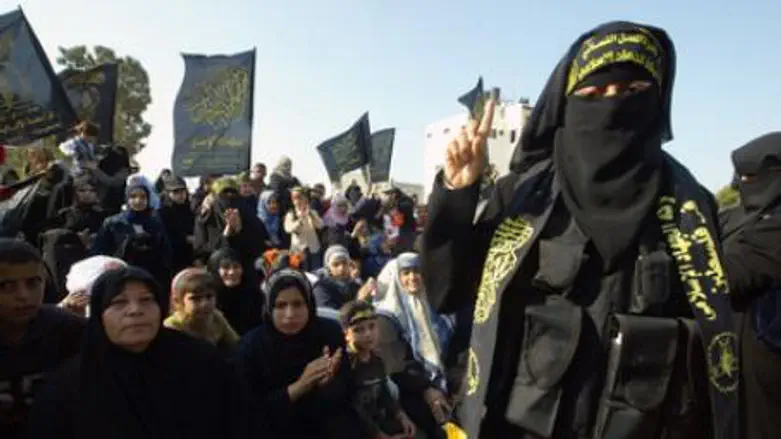 Islamic Jihad rally
Israel news photo: Flash 90
The General Security Service and Israel Police foiled a shooting attack planned by an Israeli Arab in collaboration with an Islamic Jihad terror cell in Tulkarem last month.
The would-be terrorist Mohammed Abu Ali, 20, of Qalansawe was granted citizenship by virtue of family reunification. Previously he had been a PA Arab living in Tulkarem.
The GSS investigation revealed that Muhammad Abu Ali received money and training from Islamic Jihad terrorists from Tularem during December.
Also arrested were PA enclave residents Amin Kinoach, a 26 year-old resident of Nur Al Shams in ​​Tulkarm, and Zahra Ibrahim, a 29 year old resident of the Tulkarm Dnava neighborhood.
Security sources say Kinoach has been previously incarcerated in connection to terror activity carried out on behalf of Islamic Jihad.
Ali reportedly used the funds to procure an M-16 rifle and was trained by Kinoach and Abu Zahra to carry out an attack on an IDF security post near Shechem.
On 29 January 2012 prosecutors submitted an indictment to the Petah Tikva District Court against Ali for conspiracy to commit a crime, contact with a foreign agent, the illegal purchase and possession of arms and ammunition, planning a terrorist act, and obstruction of justice.
GSS investigators said Ali was chosen for the operation by Islamic Jihad because his status as an Israeli citizen under the family reunification law allowed him to move freely between Israel, and Judea and Samaria.
Ali's case represents a growing trend wherein terror organizations seek to exploit the citizenship held by Israeli Arabs to strike at the Jewish state, officials say.