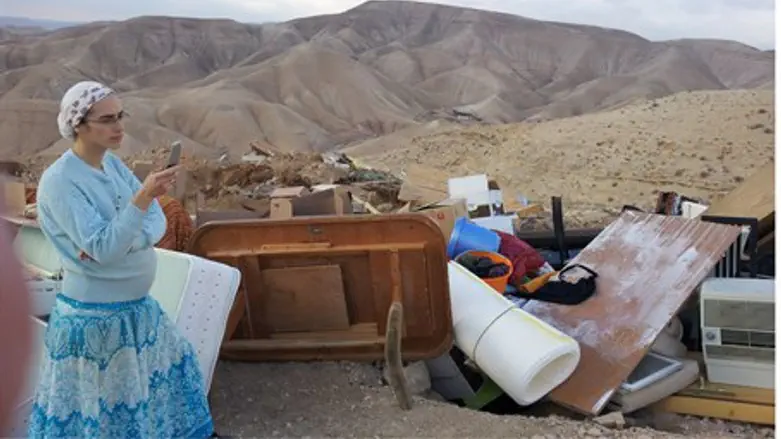 Yissa Beracha after demolition
Israel news photo: Yitzchak Aflalo/Tazpit news agency
Border Police officers who came on Wednesday to the Yissa Beracha outpost near Mitzpe Yericho set on fire building materials brought to the outpost by local residents.
The residents, who were brutally evicted from their homes last week, brought the material in order to re-build their destroyed homes.
An eyewitness told Arutz Sheva that the residents had placed wood that they purchased using donations they received, for the purpose of renewing the community. On Wednesday afternoon, the eyewitness said, two jeeps carrying Border Police officers arrived. The men who were in the area feared they would be arrested and fled the scene, and the officers decided to light the wood on fire instead. The eyewitness added they also broke the wall of a synagogue in the area.
He added that one of the officers poured fuel on the wood and lit it while residents of neardby Mitzpe Yericho and other communities gathered in the area. There were no clashes between local residents and the officers.
Last week's early morning eviction and demolition of Yissa Beracha was particularly violent. Police violently removed the families and beat protesters who had come to demonstrate against the eviction. Nine protesters were injured in the police violence.
Three of the protesters sustained injuries to the head, and were taken to Hadassah Ein-Kerem Hospital for treatment. Protesters said that one woman was injured when she was run down by a security vehicle; another protester who was hit on the head by police was refused medical treatment, witnesses said, with police preventing doctors from treating him until the evictions and demolition of the structures in the neighborhood were finished.
Among those evicted from their homes were newlyweds Tzvi Yitzchak and Sarah Cohen. Tzvi Yitzchak Cohen told Arutz Sheva the officers who evicted them "sprayed pepper gas at dozens of guys, threw one of them from the roof of a home. They used Arabs to remove our belongings and then demolished the houses. They took us out of our home while beating us."
Photos below courtesy of Uziel Sabato