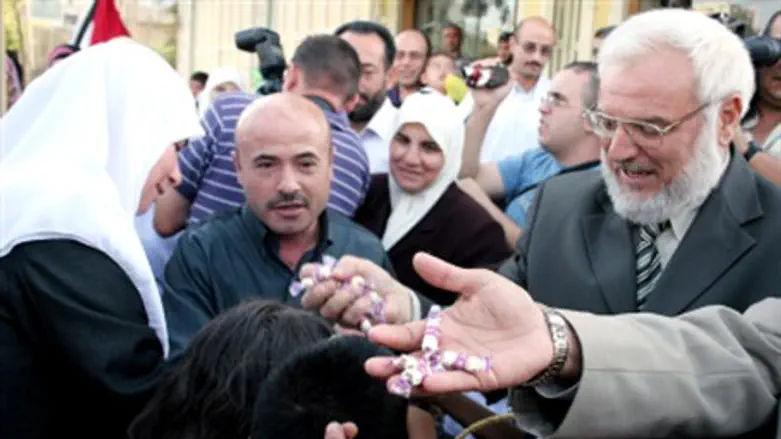 Hamas MP Aziz Dweik in Hevron
Israel news photo: Flash 90
As preliminary talks continue in Amman between Israel and the Palestine Liberation Organization (PLO), negotiators for the Jewish State and the Palestinian Authority reportedly became a bit wrapped up in details over the weekend.
Specifically, PLO negotiator Saeb Erekat demanded that Israeli negotiator Yitzchak Molcho find a way to release Hamas lawmaker Aziz Dweik, parliamentary speaker for the Palestinian Legislative Council.
Dweik was arrested Thursday by the IDF at a checkpoint near the Palestinian Authority capital of Ramallah, in the Samaria region, on suspicion of being a member of a terrorist organization.
The terrorist, who was released from an Israeli jail in 2009 after completing a three-year prison term, was traveling by car to Hevron when he was stopped, according to the AFP news agency. Dweik is based in Judea and Samaria, although he is a member of the Gaza-based Hamas terrorist organization.
A source told AFP that Erekat and his team used the exploratory talks on Saturday to advocate for Dweik's release, as well as the release of dozens of other imprisoned PA lawmakers.
The talks are drawing closer to the January 26 deadline when the Quartet of peacekeeping nations – the U.S., Russia, the United Nations and the European Union – will meet to determine with whom lies the primary responsibility for the bottleneck in reaching a final status agreement between Israel and the PA.