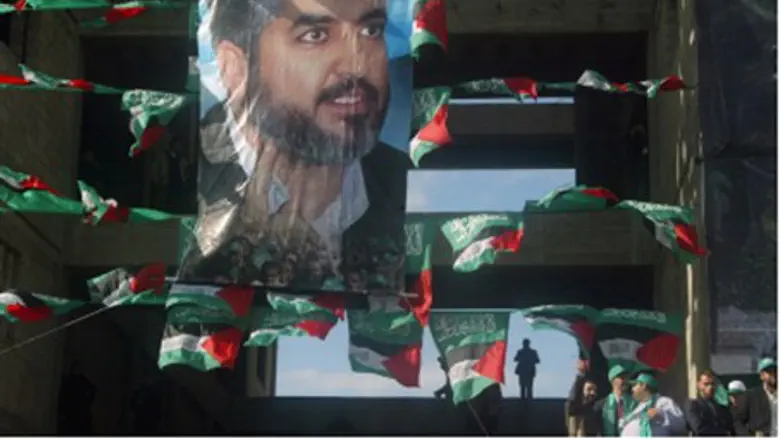 Poster of Khaled Mashaal at Gaza rally in 200
Israel news photo: Flash 90
Hamas politburo chief Khaled Mashaal may not leave his post after upcoming June elections after all, despite last week's media reports to the contrary. According to a source in Damascus quoted by the London-based Arabic-language a-Sharq al-Awsat newspaper, Mashaal is to remain in his post.
This, despite the fact that nearly all of the families of the Hamas leaders have abandoned Damascus in the face of the emerging civil war taking place in Syria.
Last week, an official statement informed media that because Mashaal had already served the maximum two terms, he would not run again in the upcoming polls. However, the source told a-Sharq al-Awsat in an interview published Sunday that members of the terrorist organization's Shura Council (Islamic advisory board) allegedly refused to allow Mashaal to step down at a meeting three weeks ago in Khartoum.
At present, Mashaal, 56, is the sole candidate for Hamas political bureau chief in the June elections.
But there are others who clearly have their eyes set on the post.
One is de facto Gaza Prime Minister Ismail Haniyeh, who was more or less trapped in the region since Hamas seized the area from Fatah in June 2007, until kidnapped IDF soldier Gilad Shalit was freed by Hamas in October 2011.
Israel was forced to release 1,027 Palestinian Authority terrorist prisoners in exchange for Shalit's freedom.
Another Hamas leader who is considering tossing his kefiyah into the candidate's ring for politburo chief is Mashaal's deputy, Moussa Abu Marzouq.
Of the two, it would appear that Abu Marzouq has more backing, with support from a number of Hamas leaders, including Mahmoud al-Zahar, according to the London-based Arabic newspaper Al-Hayat.