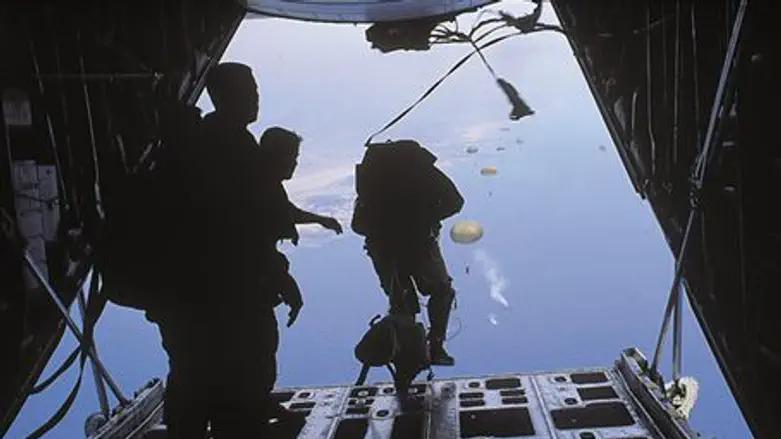 Paratroopers jump from an Israeli C-130J
Israel news photo: Israel Air Force website
This week, the IDF held its first parachuted brigade training exercise in 15 years. More than 1,000 paratroopers took part in the exercise, which required each paratrooper to jump from an IAF aircraft and immediately spring into a dynamic battlefield once on the ground.
The soldiers were required to use night vision equipment and the constellations overhead to navigate to their respective battalions. While carrying 60 kilograms (133 lb) of equipment, the soldiers took part in a march and a live-fire training exercise in which they ambushed hills and took over targets.
"This is a regimental parachuting exercise which will test the IDF's ability to bring a whole brigade of warriors deep into the field," one commander said. "An exercise of this kind hasn't been carried out for several years - in fact, since the confrontations in Judea and Samaria broke out in the late 1990s."
He explained the reason the IDF is bringing back this type of exercise is so that it can be prepared for any possible scenario.
"It's not just the technical act of boarding the plane and exiting the plane," he explained. "It's also about everyone's ability to connect together and launch a regimental attack."
Brigade Commander, Col. Amir Baram who jumped alongside his soldiers, told the IAF website, "At the door of the plane, the paratrooper stands alone. But down on the ground the entire brigade comes together and prepares for an attack."
"Each soldier is motivated, strong and brave," he added. "This is an extremely complicated operation testing the IDF paratroopers' unique capability to take advantage of operational opportunities and bring an entire brigade deep into enemy territory with all its equipment, soldiers and commanders prepared for battle."