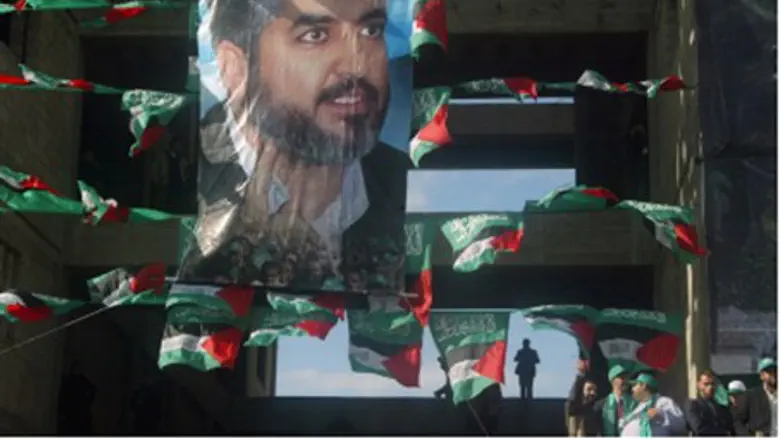 Poster of Khaled Mashaal at Gaza rally in 200
Israel news photo: Flash 90
Hamas political leader Khaled Mashaal will step down this year when the group's elections take place, according to a fellow terrorist.
Mashaal, who has headed the Hamas political bureau since 1996, will retire from his position after having served the maximum two terms, wrote Mustafa Lidawi in an article on an Arab-language website.
Lidawi, a former representative of the terrorist organization in Lebanon, said Mashaal has recommended that the group take its lead from the success of the past year's Arab Spring uprisings, and also consider nonviolent "resistance," rather than armed struggle against Israel.
Mashaal's family, as well as those of most members of the Damascus-based political bureau, fled the Syrian capital as that country moves closer every day towards a civil war.
Mashaal's family went to Amman, where they have Jordanian citizenship, as do most of the movement's leaders.
It is expected that Mashaal's second-in-command, deputy politburo chief Moussa Abu Marzouk, will succeed him as the new Hamas politburo chief after the ballots are counted.