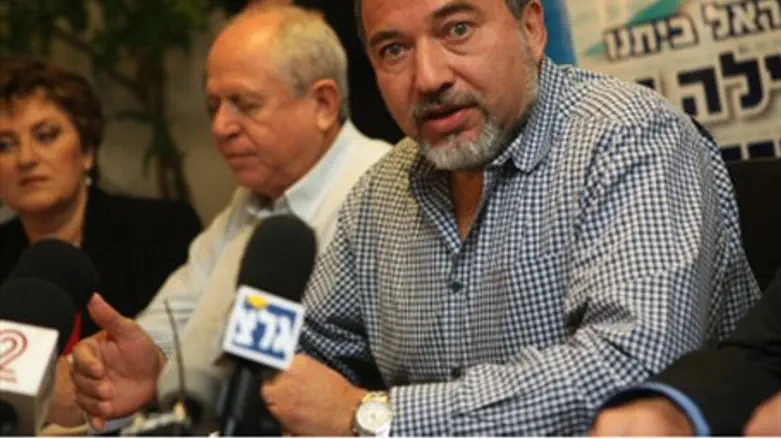 Lieberman
Israel news photo: Flash 90
Lawyers for Foreign Minister Avigdor Lieberman on Tuesday moved to fight off an indictment on corruption charges that threatens to topple Israel's ruling coalition.
The office of Attorney General Yehuda Weinstein began a two-day round of hearings intended to let Lieberman defend himself against long-brewing allegations that he illicitly received money and laundered it through shell companies.
Lieberman, who has denied wrongdoing, was out of the country on an official trip and did not attend the hearing.
Police first started investigating suspicions against Lieberman more than a decade ago.  In April, however, the attorney general's office announced that it was considering an indictment, pending this week's hearing.
Such hearings are a matter of course when senior officials face criminal allegations in order to give them an opportunity to block an indictment.
Lieberman, a contentious figure at home and abroad because of his bluntly delivered nationalist views, would be forced to resign if formally charged.
His indictment could jeopardize the government if he pulls his Yisrael Beiteinu Party out of the coalition and robs Prime Minister Binyamin Netanyahu of his parliamentary majority. 
However, a final decision on an indictment could take months. Analysts say such a delay could be to Netanyahu's advantage.
The the ruling Likud party is headed for primaries and polling strong enough to make gains in the Knesset should early elections be held.