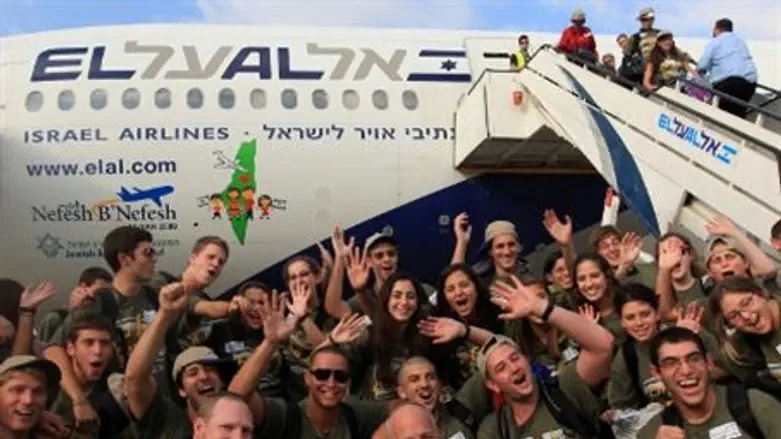 "Tzabar" immigrants arrive in Israel
Israel news photo: IDF
Three new immigrant girls from the US say they not only can stay religious and serve in the IDF but also can become officers, despite the Chief Rabbinate - and almost every other religious Zionist rabbi - ruling against it, enjoining girls to serve Israel through the National Service. The rabbi's reason is the halakhic prohibition against unmarried girls being subordinate to a male dominated framework, in which they cannot leave if they find themselves faced with possible infringements of halakhic definitions of modesty. It is not because the rabbis think that girls will not remain religious in the army.
The young girls made aliyah as part of the IDF's "Tzabar" program in which new immigrants don army uniforms and begin serving in the armed forces soon after their arrival in Israel.
The girls -- Gila Nussenbaum, Zehava Gail and Kendel Maxbauer – live on the religious Zionist kibbutz of Be'erot Yitzchak, five minutes from Ben Gurion Airport. The religious kibbutz movement has always encouraged girls to enlist in the IDF, ignoring the Chief Rabbinate's ruling against it.They hail from Boston, New York and Detroit and are to receive their ranks of officers on Wednesday, in the presence of the parents of at least two of the young women. They serve in the IDF's Education and Youth Corps.
"We could have signed up for national service like most of the religious girls, yet we chose otherwise, and we did so together. Just like family," one of the women told the Yisrael HaYom newspaper.
Not all of the girls were "Zionist from birth." Maxbauer told the newspaper, "It was only toward the beginning of high school that I began to understand the degree of my commitment to Israel as a Jewish state.
"I have many disappointments with regard to living in Israel. Our country is not perfect. Yet still this was my biggest dream, especially as a grandchild of Holocaust survivors who now is going to be an IDF officer."
As for their life as soldiers without family in Israel, their friendship keeps them from missing the "old country."
"We speak half-Hebrew, half-English, a language that not everyone understands. It's easiest when we go through this process together," Nussenbaum said.