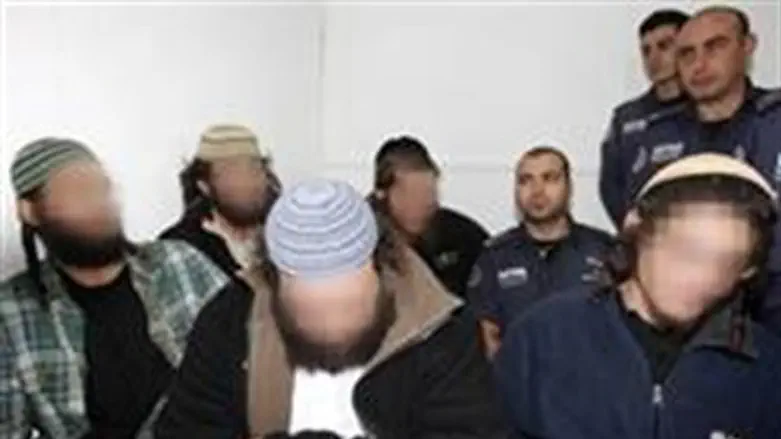 Arrested nationalists in court
Israel news photo: Flash 90
A High Court judge Sunday mocked the arrest of nationalists under a British Mandate law, which he said is "more applicable for the use of carrier pigeons than fourth generation cell phones."
Justice Yitzchak Amit pointed out that the alleged actions of the arrested men were dangerous, but added, "They were arrested for 'holding military information," a British Mandate law on which "the government will have a hard time convicting" the suspects.
They are accused of gathering information on military maneuvers in order to organize protests against the demolition of homes at Jewish outposts.
The government prosecutor appealed a lower court ruling that allowed the suspects to be released under house arrest, without cell phones and with an unusually heavy bond of 10-15,000 shekels ($2600-$3900).
Rabbi Chaim Druckman, leading national religious leader, told Voice of Israel government radio Sunday that "price tag" actions are morally wrong and violate Jewish values, but harshly criticized the government for digging up false charges. The group of five originally was charged with "spying." After it was clear that the charges would not hold up in court, the indictment was based on laws used in the British Mandate.
"How can they claim that sending an SMS message is against the law," Rabbi Druckman asked rhetorically.  
National Union Knesset Member Dr. Michael Ben-Ari, in response to the court ruling Sunday, challenged government prosecutors to instead "stop the organizers of the weekly riots at the security fence at Bil'in." Those protests, in which soldiers have been injured, are peopled by by foreign anarchists, Israeli leftists and PA Arabs.