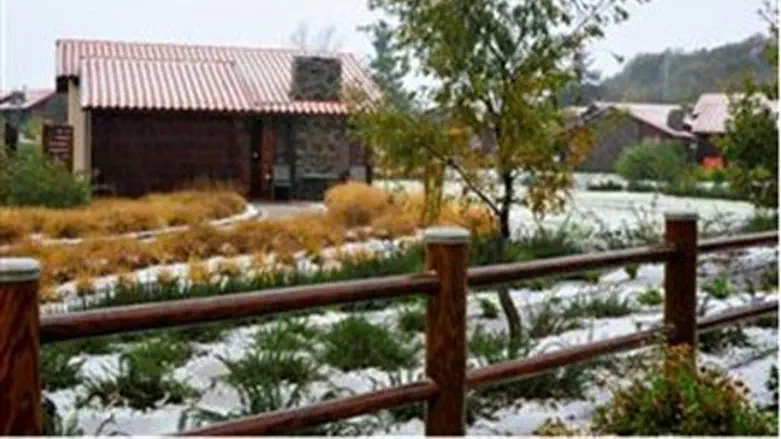 Snow in the Golan, Sunday
Israel news photo: Ilan Hadar
A weekend of winter white allowed Mt. Hermon to open Sunday for skiing with a meter of snow cover on lower slopes and 1.5 meters higher up.
Heavy rainstorms struck the entire country, with blizzards in the northern Golan Heights that closed all major arteries throughout the region for the duration of the Sabbath.
Mixed snow and rain fell in the Tzfat area in the northern Galilee, with rain spreading across the rest of the north, raising the level of Lake Kinneret (the Sea of Galilee) by 11 centimeters, and feeding thirsty plants and trees parched from what has been a relatively dry winter. A ban on watering gardens throughout the winter months is in place as Israel tries desperately to conserve whatever water it can.
However, there is still a long way to go before the lake's water level will return to what is considered "normal" – at present, the level is 44 cm below the "red line" at which officials say drought standards must be instituted.
The storms that swept across the country from north to south beginning Friday and continuing until Sunday morning meant that in most of the country, Israel has met 100 percent of its average rainfall for this time of year.
The southern region, however, continues to suffer from a paucity of rain, meeting only 30 percent of what should be its average rainfall, according to the National Meteorological Service.
Forecasters are predicting partly cloudy skies for the remainder of Sunday with rising temperatures in the afternoon, but still remaining unseasonably cool. Light snow may fall over Mt. Hermon. Skies will continue to be partly cloudy with a chance of scattered light rain in the north on Monday and Tuesday, with cold temperatures.