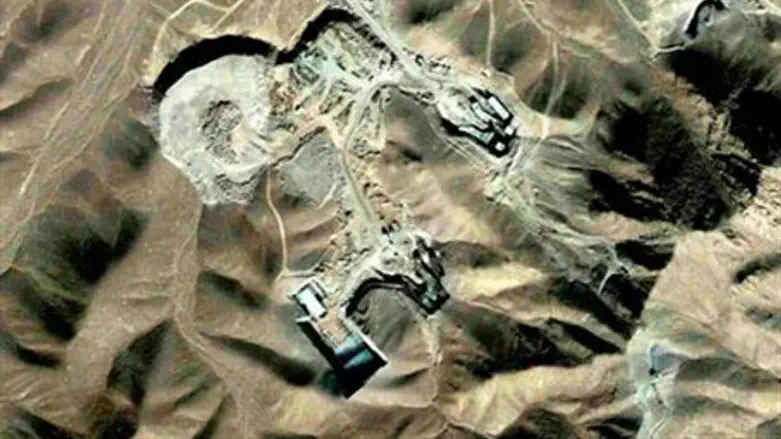 Iran's Qoms nuclear site
Israel news photo: NASA
TIME Magazine cited "sources" Saturday who said Israel's Mossad agency was responsible for paying and training assassins to kill Iranian scientists in the past two years.
The U.S.-based magazine also quoted unnamed Western intelligence sources as saying Israel was also responsible for the explosion at an Iranian military base outside Tehran last year.
Last week another Iranian nuclear scientist was killed in a car bombing in broad daylight, the third to be assassinated in two years, just a few days after President Mahmoud Ahmadinejad announced that activation was to begin deep underground at the Fordow uranium enrichment facility near Qom.
Professor Mostafa Ahmadi Roshan was known publicly as an oil industry expert at Sharif University of Technology -- but it turned out he was also a nuclear scientist, heavily involved in Iran's nuclear development activities.
The U.S. State Department immediately denied responsibility for the murder in a statement to the media. In addition, President Barack Obama also picked up the phone and called Prime Minister Binyamin Netanyahu to demand an explanation after hearing about the hit.
Perhaps as a result of all the brouhaha, Israel's President Shimon Peres on Friday officially denied responsibility for the assassination, breaking the nation's standard policy of not commenting on intelligence matters. Peres told CNN's Spanish-language channel, "I am well aware that it is 'fashionable' to blame Israel and the U.S. whenever something negative happens there."
Meanwhile, IDF Spokesman Brig.-Gen. Yoav Mordechai wrote on his Facebook page that although he personally did not know who had killed the Iranian scientist, he "certainly won't shed a tear for him."
Iran, however, continued to claim on Saturday that the United States was behind last week's assassination of the 32-year-old nuclear scientist.
"We have reliable documents and evidence that this terrorist act was planned, guided and supported by the CIA," Iran's foreign ministry wrote in a letter handed to the Swiss ambassador in Tehran, according to Iranian state-run television.
Switzerland represents American interests in Iran.