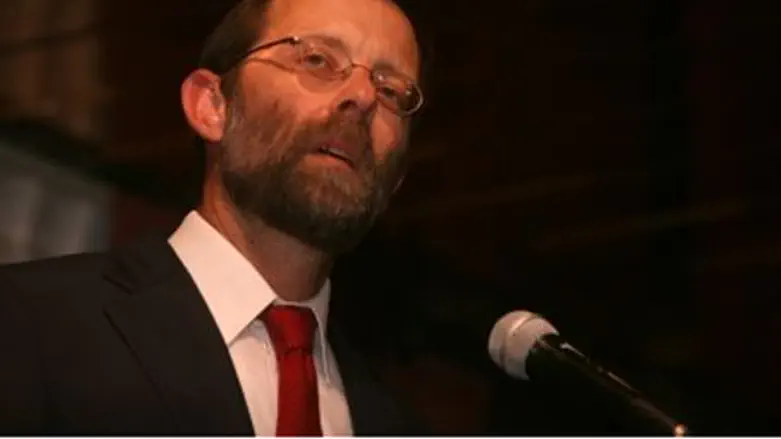 Moshe Feiglin
Israel news photo: Flash 90
The head of the ruling Likud party's Jewish Leadership faction, Moshe Feiglin, has called out to leaders in Judea and Samaria (Yehuda and Shomron, or Yesha) to support him in the coming party primaries. If party leader Prime Minister Binyamin Netanyahu defeats him by a large margin in the primaries, he warns – he will see this as a green light to veer leftward in his policies.
A sweeping victory for Netanyahu would mean a return to the era of construction freezes, Feiglin told Arutz Sheva: "Unlike previous primaries, this time the average Likudnik, too, understands that Bibi is not fighting for victory here but for complete hegemony in Likud. Everyone understands that if they want a party and not one-man rule, they need to give me the vote."
Feiglin warned that should he suffer a large scale defeat, Judea and Samaria will suffer: "The entire reason that there is construction and no freeze today is that Likud members put pressure on Netanyahu against the freeze. And who designed the current list that includes MKs like Danon, Levin and Hotovely? Who caused them to serve in the Knesset today? They were in my list of recommended candidates, people have forgotten that. Were it not for Jewish Leadership, not a single brick would be built today in Judea and Samaria. And that is precisely the importance of the coming primaries."        
Feiglin hopes that the coming ballot will give the Prime Minister a clear message, that his control of Likud is not absolute. "The 130,000 Likud registered members who vote for me or Netanyahu are precisely the same voters who will vote for the Likud Knesset list. If the Prime Minister receives 90%, he will tell the Central Committee members that he has received a new mandate to seek continued diplomatic compromises."
Feiglin hopes to receive more than 20% in the coming vote. Netanyahu has told his campaign organizers that Feiglin must be denied the 20% mark, says Feiglin.