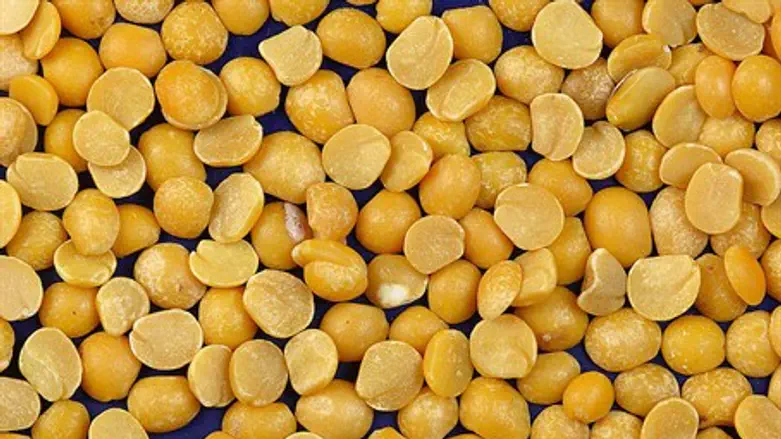 Yellow Split Peas
GNU/Sanjay Acharya
Seasonal cooking calls for heavy winter soups and stews. The longer you cook a food, the more warming it is, and no soup needs to cook for longer than a split pea soup. My favorite way to cook split pea soup is in a crock pot. I toss in the peas  first thing in the morning, add some water and then forget about it for the rest of the day. The all day cooking makes the peas incredibly soft, and I think just the smell of the soup heats up the house.
If you happen to have more time in the morning then add the remaining ingredients first thing, otherwise add the rest of the ingredients at various times of the day when you have a few moments.  I find that the remaining ingredients work well on only 3-4 hours of cooking time.
Every crock pot cooks differently, I will tell you my method but keep in mind that your crock pot might cook faster or slower than mine. One of my favorite crock pot tricks  is to start off with boiling water. Using already boiling water cuts hours off of crock pot cooking time. When preparing split peas, I find it important to make sure that the peas cook for long enough (otherwise, pop out those pepto-bismols). Since this is a soup recipe and extra cooking time will only help, it's preferable to have it cook for longer, so I advise starting out with boiling water.
Notice that I use an interesting combination of spices in this soup. The spices are part North African and part Germanic. Turmeric and cumin are more North African, while bay leaf and caraway seed are more German. While it is a strange combination, I find that they work well together. What is interesting for me is the similar and yet different roles these spices play.
Turmeric and bay leaf are very common spices used in foods as they both help with the digestion. They are used when cooking legumes to prevent flatulence and to promote proper digestion.
Turmeric, one of the most important spices, functions as a a liver cleanser.  Turmeric helps with the digestion of fats and oils and should be eaten every day.  Turmeric has been shown to prevent Alzheimer's and Parkinson's disease. It is also a natural anti-viral and anti-biotic and it keeps our food as well as our bodies healthy by eliminating pathogens. 
Bay leaf, while also a digestive aid, works primarily on the lungs. It is a pulmonary antiseptic and an expectorant and is a wonderful remedy for someone who has a cold or who is congested.
Ingredients:
olive oil
1/2 kilo split peas, (soaked overnight)
4 liters boiling water
1 onion, chopped
4 cloves garlic, smashed
4 carrots, sliced into rounds
1 kohlrabi or turnip, chopped
4 stalks celery, chopped
2 bay leaves
1/4 tsp cumin
1/4 tsp turmeric
1/2 tsp caraway seeds
1 cup beer (optional)
1 marrow bone (optional)
salt and pepper
Croutons and/or hot dog slices for garnish.
Heat the olive oil in a frying pan, saute the onions for 2 minutes and then add to the crock pot.  Discard the soaking water and add the peas to the crock pot as well.  Add the remaining ingredients, other than the salt.  Cook on high for a minimum of eight hours. Add the salt only after the peas have slightly softened.
If you prefer to cook the soup in two stages than put half of the water and all of the peas in the crock pot.  Cook on high for around 4 hours. At a convenient point mid-day, saute the onion and add them, along with the remaining ingredients, to the crock pot. Continue to cook on high for at least 4 more hours.
Garnish with croutons and hot dog slices (big hit with the kids!)
Sima Herzfeld Navon is a Cooking Instructor and a Nutritional Healer.