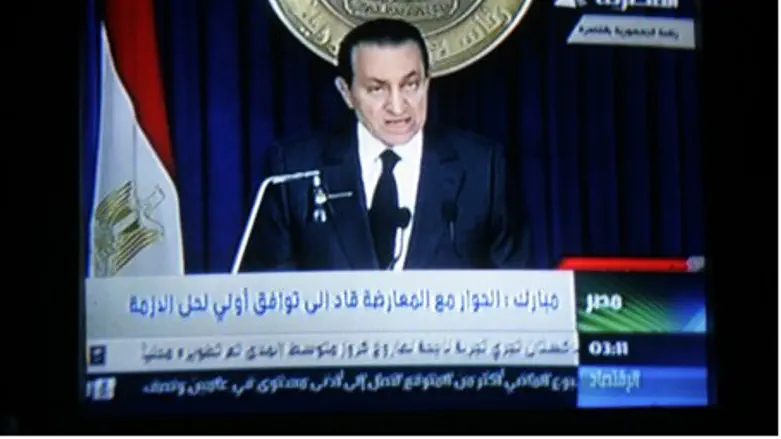 Former Egyptian President Hosni Mubarak
Israel news photo: Flash 90
The prosecutor facing former President Hosni Mubarak in a Cairo courtroom announced Thursday that he is seeking the death penalty for the man who led the nation for more than 30 years.
The trial of the former Egyptian president resumed this past Monday after having dragged on for months.
Mustafa Khater, a member of the prosecution team, said during Thursday's court session that "any fair judge" would issue the death penalty for the former president, former Interior Minister and security chief Habib El Adly and six top police commanders accused of ordering the killing of protesters in the massive Tahrir Square demonstrations that toppled Mubarak's government in February 2011, according to the Associated Press.
Two of Mubarak's sons, Gamal and Ala'a, are also being tried on charges of corruption. 
Mubarak's regime was the second to fall in the Arab Spring uprisings that began in January with Tunisia's Jasmine Revolution, but continued throughout the year, threatening one Arab government after another. Both Libya and Yemen have changed their governments since the Egyptian Revolution as well, and Syria is still in the throes of its own revolution.
The 83-year-old former Egyptian president's trial has been adjourned until next Monday, January 9.
A spokesman for the Prosecutors' Office told CNN last week there was a "possibility" that a verdict could be handed down by January 25, the anniversary of the start of the Egyptian Revolution.