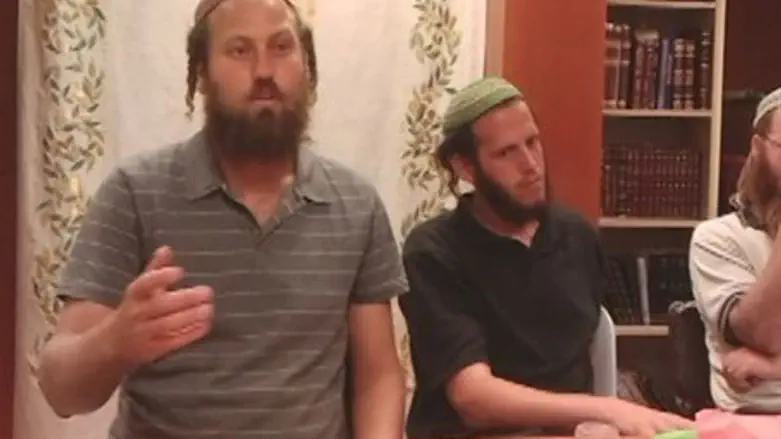 Akiva HaCohen
Yoni Kempinski
The Jerusalem Magistrate's Court extended by five days on Tuesday the remand of Yitzhar resident Akiva Hacohen.
Hacohen is one of several men who were given restraining orders by police last August and were forced to leave their homes. Since being deported he, his wife and their four children have been residing in an apartment in Jerusalem's French Hill neighborhood.
He is now being accused by police of espionage, because he warned Jews residing in communities in Judea and Samaria of impending demolitions of homes.
Hacohen's wife, Ayelet Hashachar Hacohen, criticized the police and the State of Israel on Tuesday for harassing her family.
"We have been unable to enter Judea and Samaria for four months, and now they are blaming my husband and his friends of being spies and of giving information to the enemy," she told Arutz Sheva.
"I do not know whether to laugh or cry," she added. "We live in a democracy, but what kind of democracy hands out administrative orders without any reason? First they mistreat Jews, and now they prohibit us from reporting that forces are on their way to destroy our homes."
Hacohen added, "We did not break any administrative order, we've done nothing wrong. We just received phone calls from people who told us that forces are making their way to the community in order to destroy it. We were simply trying to figure out where these forces were headed. We received phone calls and now we're being accused of spying."
Hacohen, who is pregnant and is about to give birth any day, has been separated from her husband since Thursday.
"They arrived in the morning at the apartment in Jerusalem and took him," she said. "Since then we have not seen him or talked to him. I have four children, I am about to give birth and now they took my husband. Everybody knows these cases always end with an acquittal, so why abuse us for no reason?"
On Saturday night, dozens of nationalists demonstrated in front of the Russian Compound in the city, where police headquarters are located, under the title: "The settlers are not enemies."
The demonstrators protested against what they described as the police's "witch hunt" against nationalists, in the wake of the spying allegations against Hacohen and his friends.