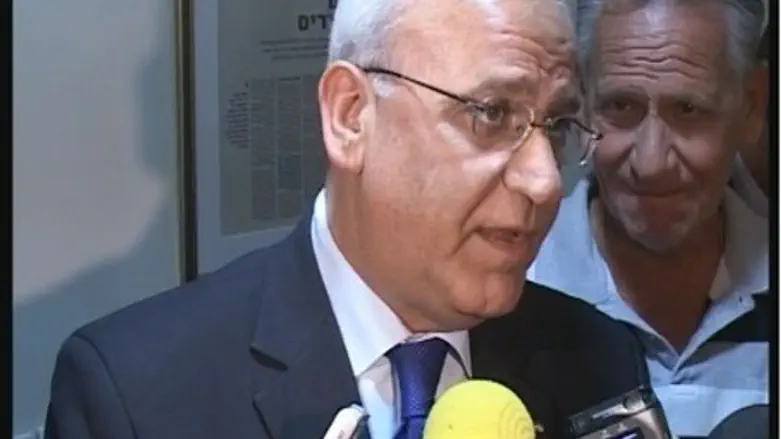 Saeb Erekat
Israel news photo: Flash 90
Hamas is calling on the Palestinian Authority to abandon talks with Israel, set to resume Tuesday in Amman for the first time in 15 months.
Israeli government representative Attorney Yitzchak Molcho is set to meet with veteran PA chief negotiator Saeb Erekat, together with representatives of the Quartet of peacekeeping nations -- the U.S., Russia, the European Union and the United Nations.
PA Chairman Mahmoud Abbas, who also leads the PLO, has consistently refused to negotiate with Israel since Prime Minister Binyamin Netanyahu entered office, with the exception of a few token meetings after heavy pressure from U.S. President Barack Obama.
He immediately abandoned even that effort when Netanyahu refused to renew a 10-month freeze on Jewish construction in Judea and Samaria, let alone extend it to a moratorium on building in large areas of Jerusalem where the PA lays claim for its hoped-for state. He has said that "all options are on the table" if the current talks do not succeed but stopped short of threatening a third intifada.
Like Abbas, Erekat has already announced prior to talks that Israel must cease all settlement construction and accept the pre-1967 lines as a precondition for any final status discussion on a two-state solution.
Neither side appears to have raised expectations for Tuesday's meeting, arranged by Jordan's King Abdullah II.
PLO leader Wasl Abu Yossef insisted Sunday to the Bethlehem-based Ma'an news agency, in fact, "This is not a resumption of negotiations."
However, even the mere fact of holding the meeting is "reproducing a failed policy," charged Hamas spokesman Sami Abu Zukhri in a statement.
"Hamas calls on the Palestinian Authority to boycott the meeting," he said.
The only beneficiary of the summit will be the Israeli occupation," he added, "Israel will exploit the meeting to avoid its own internal crises and improve its reputation in the face of the Arab Spring and growing opposition to Israel around the world."
Likewise, the Popular Front for the Liberation of Palestine (PFLP) told Ma'an the meeting was a "grave political mistake which will encourage occupation to go ahead with its aggressiveness against the Palestinian people and their properties."