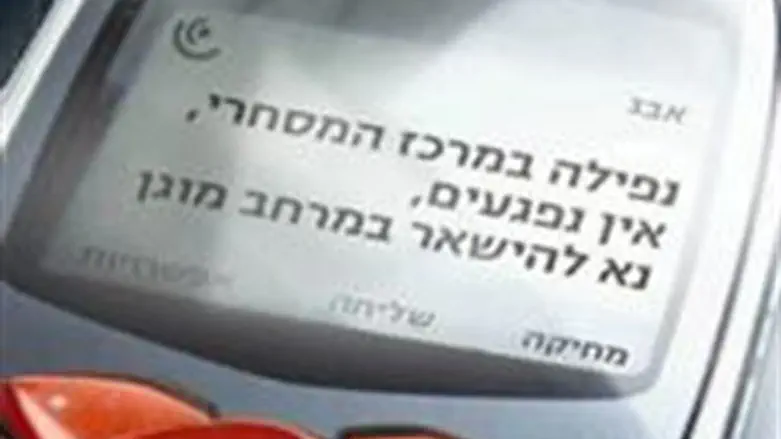 SMS: Missile blast. Take cover
Israel news photo: IDF
Israel will soon deploy a country-wide SMS messaging system that warns citizens of incoming missiles – in case they are not intercepted.
The Home Front Command conducted tests on Sunday of a text message system that will warn residents in real time, according to location, of incoming missiles and rockets.
Sunday's test was conducted in the central part of the country in four languages – Hebrew, Arabic, English and Russian.
The system was first tested during the "Turning Point 5" civil defense drill, earlier this year, when which alerts were sent to residents of a number of localities in Israel.
The Turning Point 5 drill last June involved 250 soldiers participating in a test run in the Gaza Belt area.
The test was interrupted because Partner Communications, which operates the Orange cell phone system, complained that the exercise's alert system did not work on its Samsung C5130 phones.
The SMS system gives an early warning to residents in emergencies, including those other than incoming missiles. The new but expensive Iron Dome system also is being expanded to defend citizens against incoming missiles.
It has had a high success rate, but its drawbacks are that every city needs its own system, which is very expensive. Each missile costs approximately $100,000, while a Kassam short-range rocket costs terrorists less than $800 to assemble.
Hamas terrorists began producing Kassam missiles after the start of the Second Intifada, also known as the Oslo War, 11 years ago.
The first rocket it fired had a range of only two miles, but the missiles' range has been improved, and they can now reach urban centers such as Ashkelon.
The only previous warning system that the IDF has developed is the Code Red system, a siren that is sounded after a Kassam launch is detected, giving residents of areas close to Gaza only 15 seconds to run for cover.