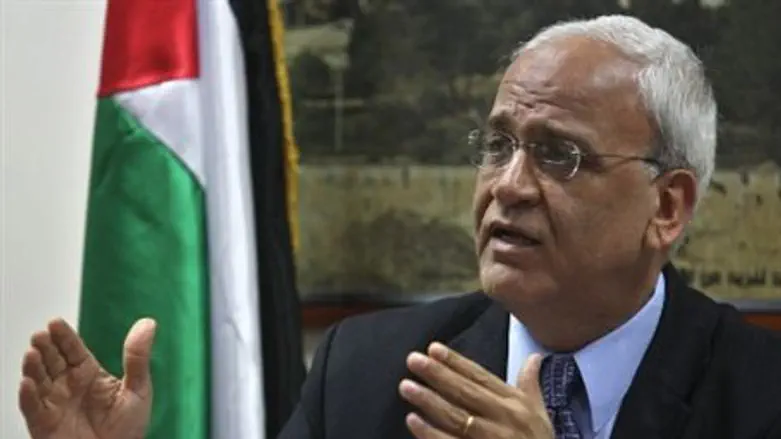 Saeb Erekat
Israel news photo: Flash 90
Jordan may be playing a role in mediating talks between Israel and the Palestinian Authority (PA), sources reported Sunday.
No final word has yet been given as to whether or not negotiations will actually get off the ground, according to the source. However, at least one report in the Hebrew-language media claimed Sunday that direct talks could start soon -- even within the next 48 hours.
Advanced negotiations had already begun, reported the daily newspaper Yedioth Acharonot, under the watchful eyes of Jordanian Foreign Minister Nasser Judeh, as ordered by King Abdullah II, and had led to the strong possibility that talks could be jumpstarted before the middle of the week.
If the negotiations proceed to direct talks -- as is hoped by the Quartet of peackeeping nations (the U.S., Russia, the European Union and the United Nations) -- Israel will reportedly be represented at the table by veteran negotiator Attorney Yitzchak Molcho. His PA counterpart will be, as in the past, former PA chief negotiator Saeb Erekat.
Israeli government spokesman Mark Regev would not comment on the report. "We are always ready to negotiate with the Palestinians, without pre-conditions, whenever they are ready to come to the table," Regev told Arutz Sheva, refusing to make any further remarks. However, he did not deny the report. Sunday evening, the Prime Minister's Media Advisor confirmed that Molcho would be going to Jordan on Tuesday for a meeting of the Quartet, expressing gratitude to King Abdullah and Foreign Minister Judeh for their efforts.
The Hashemite monarch recently visited PA Chairman Mahmoud Abbas, who also leads the PLO, at his Muqata headquarters in the PA capital of Ramallah. During that visit, Abdullah reportedly pressured Abbas and other PA leaders to get final status talks with Israel back on track.
Abbas has consistently refused to negotiate with Israel since Prime Minister Binyamin Netanyahu took office, with the brief exception of a handful of token "photo op" sessions held under pressure from the Obama Administration after Israel had complied with a PA demand for a 10-month moratorium on all Jewish construction in Judea and Samaria.