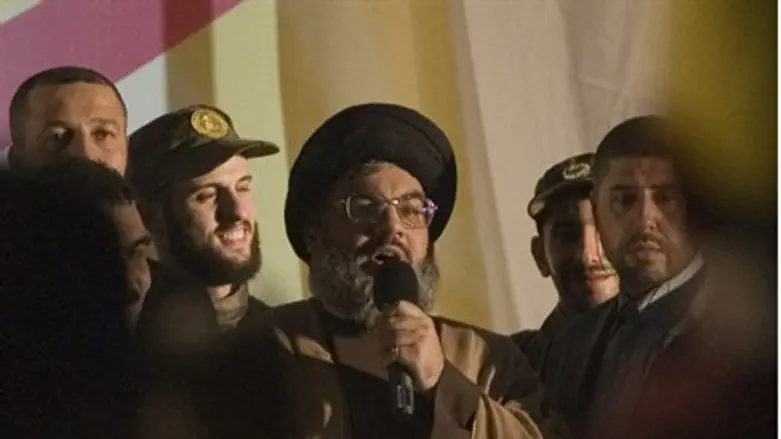 Hassan Nasrallah
Israel news photo: Flash 90
The Hizbullah terrorist organization is in hot water over a scheme to launder hundreds of millions of dollars in multi-national drug trafficking revenues.
According to a report published by the World News Tribune, the Lebanon-based terrorist organization is using American banks and other financial institutions to process money earned from trafficking in South America.
The complaint filed by the U.S. Drug Enforcement Administration and the Department of Justice, charges Hizbullah with using the money to buy used cars in the U.S. for transport to West Africa, where they are then sold, mostly in Benin.
U.S. Attorney Preet Bhara noted, "It puts into start relief the nexus between narcotics trafficking and terrorism."
According to a British security source, Hizbullah also sets up straw companies in African and Arab countries which then sell vehicles and/or other goods. Hizbullah operatives also steal passports, which are then used to cover terrorists as they travel the world to raise money.
However, some intelligence sources are questioning how much of the funds are actually being used for the day-to-day operations of the terrorist organization, and how much is going to line the pockets of its leader, Hassan Nasrallah.
American intelligence sources quoted by a Saudi newspaper said the group's secretary-general is worth some $250 million -- and the bank accounts of his deputy, Sheikh Naim Qassem, and other top terror officials may total as much as $2 billion.
The money is allegedly laundered through a complex chain of accounts around the globe using pseudonyms. Millions of dollars are periodically funneled from the accounts of Hizbullah leaders or those of their wives, to those of senior members of the Iranian Revolutionary Guards, the sources said.
The money is then transferred back to Hizbullah from the office of Supreme Leader Ayatollah Ali Khameini, the source said.