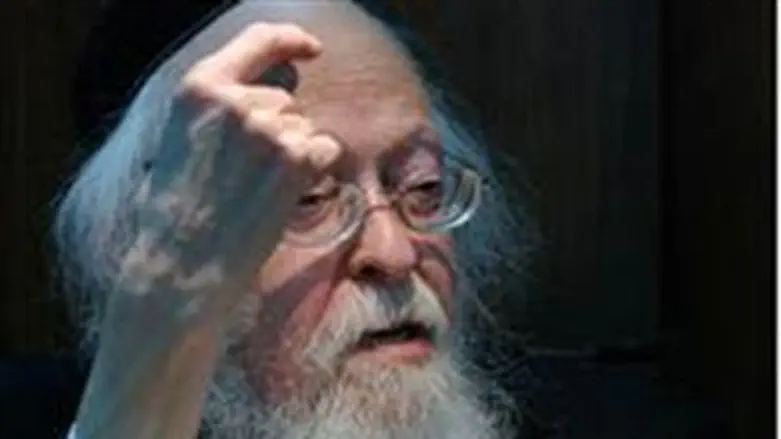 Rabbi Elyashiv
Flash90
Venerable sage,Rabbi Yosef Shalom Elyashiv, considered the world leader of the Ashkenazic hareidi-religious non-hassidic Yeshiva world (the "Lithuanian" yeshivas) said in a letter Tuesday that he was opposed to the recent phenomenon of hareidim integrating secular college level studies with Torah education, and to institutions that encourage youths to enlist in the IDF or National Service (Sherut Leumi).
He did not reject earning a livelihood in the business world or other occupations, but reiterated the longstanding opposition of the Israeli hareidi world to the combination of Torah study and academics.. In the USA, it is common to see hareidi Jews studying in special colleges, but these religious insitutions generally offer practical majors such as accounting and computers with minimal liberal arts..
In his letter, Rabbi Elyashiv wrote that "the secret and foundation to the survival of Torah and of those who fear G-d and live a life of Torah is absolute separation from the world of the secular, who have thrown off the yoke of Torah. As such we must protest and warn against all sorts of trends from the outside that seek to harm the pure oil of the hareidi institutions. These institutions must be under the control of the rabbis and must be guided by them, and must exclude all paths that lead to national service, secular studies, or the army, even if they assure a special framework for hareidi Jews. Such a framework will subject hareidi Jews to the control and culture of secular Jews who have thrown off the yoke of Torah," he wrote.
The purpose of all these programs, Rabbi Elyashiv wrote, was to change the nature of hareidi Jewish life. "Thus they (the secular government) encourage all sorts of programs, academies, colleges, and the like which promise degrees, licenses, academic credentials, etc., intended to introduce goals and aspirations foreign to our way of life. This is in direct contradiction to the instructions of the the great rabbis of previous generations, who battled against all institutions that had these purposes, and removed them from the 'camp of Torah.' This is especially the case now, where the institutions make clear that their purpose is to change our ways of life, and to instill foreign aspirations – nationalistic and academic – that our forefathers never accepted, bringing us to make inappropriate connections with secular people, those of the 'culture of sinners.'"
The only true path for Jews, said Rabbi Elyashiv, was to "do the will of our Father in Heaven" and reject these efforts.
Recently, all of Israel's media were in an uproar over several national-religious soldiers who asked not to be forced to hear women singing as it is against halakha and were punished. It is possible that the rabbi saw this as tangible proof that hareidi soldiers, even in the specially formed Nahal Hareidi unit, might face religious dangers in the army.