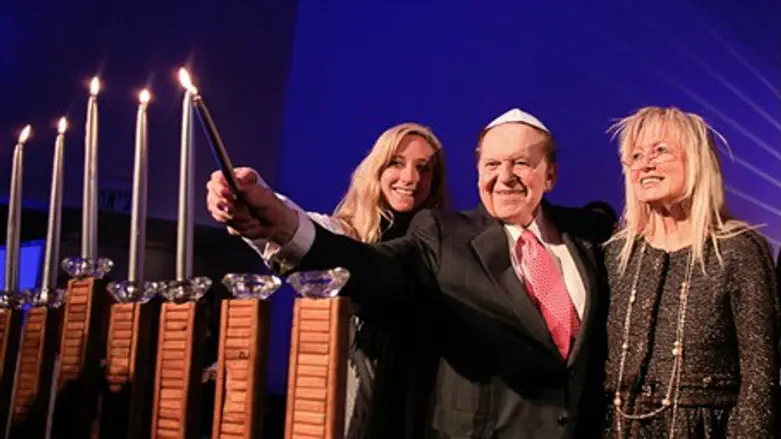 Adelsons light candles
Israel news photo: Taglit
Hundreds of young Jews from around the world, who are currently in Israel as part of the Birthright Israel educational tour, took part in a Hanukkah candle lighting ceremony on Sunday, marking the sixth candle of Hanukkah. The ceremony was attended by philanthropists Dr. Miriam and Sheldon Adelson, who are generous contributors to the program, as well as by Minister of Information and Diaspora Yuli Edelstein and Taglit-Birthright Israel CEO Gidi Mark.
Also in attendance were IDF soldiers who accompany the Birthright participants and help them feel at home during their trips. To date, approximately 40,000 IDF soldiers have taken part in Birthright tours.
Taglit-Birthright Israel offers the gift of a free, ten-day educational trip to Israel for young Jewish adults between the ages of 18 to 26.
The word Taglit means "discovery" in Hebrew and the program offers participants a chance to discover the Jewish homeland and their fellow Jews. The trip aims to strengthen the Jewish identity of the individual participants and their connection to Israel as well as to promote worldwide Jewish unity by having Jewish young people from diverse countries get to know one another.
Since its establishment in 2000, Taglit-Birthright Israel has given free trips to more than 280,000 young Jews from more than 50 countries.
"The holiday of Hanukkah is connected to miracles," Dr. Miriam Adelson said at the ceremony. "To me, the miracle is my very existence since, when my father and mother were young they each, separately, decided to leave Europe and come to Israel. Because of these decisions I am standing here today. Feeling Jewish in Israel is trivial but around the world it is difficult. You have to feel daily that it's a miracle that you are alive, because one of your parents or grandparents probably chose to leave Europe for a safer future. It's a miracle that the Jewish people exist and that Israel was established."
Sheldon Adelson said, "Over the years we have met many groups and many soldiers like you and we're still excited to stand here in front of you today. Judaism is not just a religion, race or nationality but is the best club in the world to belong to. There are only about 12 million Jews around the world and therefore it is important that each of you belong to the Jewish community. Miriam and I decided to be involved in this important project and to donate money to the success of Taglit, in order to allow each and every one of you to feel that you belong to the Jewish people. A Taglit participant once asked me what we want to return as it is well-known that there are no free lunches. Well, this time there are. The only thing we ask of you is to just be here and experience Israel and Judaism."
Minister of Information and Diaspora Yuli Edelstein turned to the participants and asked them, in the spirit of Hanukkah, whether they believe in miracles. He then said, "I would not be standing here today if there were no miracles in the world. When I was born in the former USSR I did not know anything about Jewish culture and my chances of remaining Jewish were slim. I never received a Jewish education, I survived three years in jail and I got to make aliyah and here I am standing in front of you today. If I had been told years ago that there will be a project that will successfully bringing hundreds of thousands of young Jews to Israel, I would have thought that it's a beautiful dream but one without a real chance. And here we are today with a quarter of a million Jews who have been to Israel through Birthright and thanks to that you're here today as well. That is the essence of Hanukkah - to make such things happen."
Taglit participants are the most enthusiastic advertisement for the program, saying that they come back from the trip with a deeper understanding of Israel, its people and its culture. Many express their desire to make aliyah.