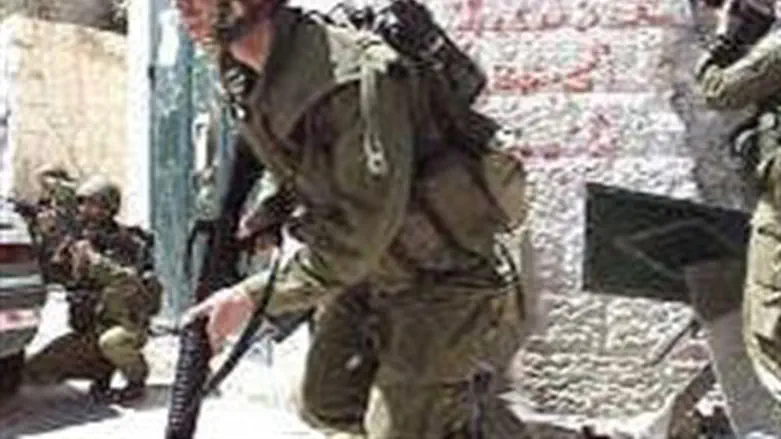 IDF soldiers
Israel news photo: Flash 90
Israeli forces closed all the entrances to the Arab village of Azzun near Keddumim in Samaria (Shomron)  while pursuing a terrorist on Saturday.
According to the PA-affiliated and Bethlehem-based Maan News Agency, locals reported that a large IDF force stormed the village in the late morning.
The soldiers were pursuing a shotgun wielding terrorist who opened fired on an Israeli vehicle at the gates of the town of Maale Shomron earlier in the day.
No physical injuries were reported in the attack, but the vehicle was damaged and witnesses reported the assailant had fled for Azzun in his own vehicle.
Police and security forces, including Ephraim Brigade deputy commander Tzur Harpaz, responded to the scene of the attack.
Soldiers entering the village reportedly shut down the northern and the western entrances before they ascended to the roof of a local resident's home and started going from house to house in search of the terrorist.
According to Maan, onlookers said the soldiers reported coming under fire during the operation.
It is currently unknown whether IDF forces found the terrorist during the search.
Maale Shomron is a mixed secular and religious community, known for mutual consideration and respect betwen the residents. Cars are allowed to enter the town and driving is allowed on the Sabbath except for a marked off area around the synagogue, but all events in the town do not desecrate the Sabbath as not to offend the religious residents and allow for their participation.