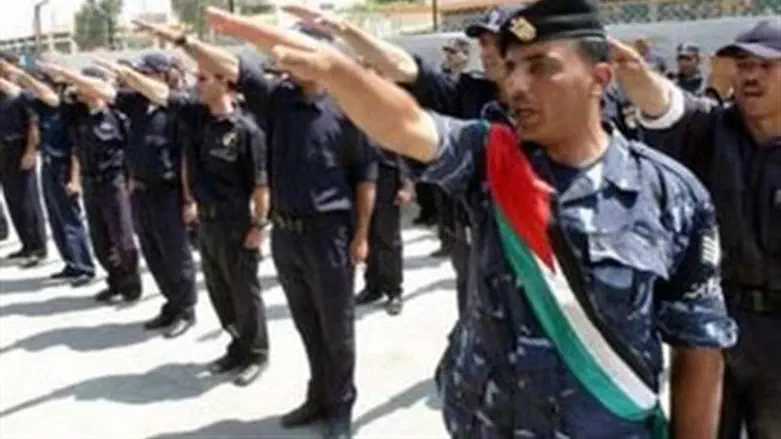 PA Security Forces
Flash 90
The Palestinian Liberation Organization (PLO) announced Wednesday it is reviewing whether to downgrade ties with Israel and halt security cooperation in light of the moribund peace process
"This is the current Palestinian move as the Israeli government stalled the peace process and completely locked the political horizon," PLO executive committee member Wasel Abu Yousuf said of security arrangements with Israel.
"A change in the status quo is a must," said Abu Yousuf, stressing that walking away from unfair prior agreements with Israel remained a key option for the PLO.
"The Paris Economic Agreements will also be re-reviewed and amended should the Israeli government decide to freeze the Palestinian revenue funds again," Yousuf added.
"The entire political equation in Palestine is completely blocked, and the Palestinian leadership cannot stand still," he said, adding that Israel is to blame for stalled talks since it has not acquiesced carte blanche to PA demands.
Israeli officials have said they are willing to sit down and begin serious negotiations without preconditions from either side in accordance with a proposed Quartet for Middle East Peace framework for renewed talks.
They note that Israel previously froze construction in the territories for 10 months only to be rebuffed and given a mounting list of preconditions, which included a release of PA terrorists from Israeli jails and accepting the pre-1967 lines as a basis for a PA state.
Israeli officials say their counterparts in Ramallah are intentionally avoiding talks with Israel in favor of a unilateralist track at the United Nations because they have not prepared their people for the hard concessions real peace will require.
That unilateralist track, Israeli officials emphasize, is a direct violation of the 1993 Oslo Accords that govern all contacts and cooperation between Jerusalem and Ramallah.
"This is nothing new," a senior source in the foreign ministry told Arutz Sheva. "The PA is desperate to avoid real talks at all costs. Real talks mean concessions and blaming Israel is expedient."
The source added that PA intransigence would hurt them far more than Israel in the long run, saying "Threats like this are foolish - it would be shooting themselves in the foot. [PA chairman] Abbas needs to come back to the table."
Israel's short-lived decision to freeze tax revenues to the PA - some $100 million per month - sent Ramallah into a fiscal tailspin. As such it remains unclear how the PA would keep the lights on if it were to scrap its standing agreements with Israel.
Abu Yousuf insisted the PA would continue on its unilateral track, however.
"We demand status as a full-member state which is only possible via the UN Security Council," he said. "We find no alternative."
"We are exerting extensive efforts with the international community to secure our rightful full UN membership," he said, noting making such a bid was an irreversible move.
In addition to failing to secure the 9 affirmative recommendations necessary in the 15-member security council to have their statehood application passed to the UN General Assembly, the PA faces a negative recommendation from the United States.
A negative recommendation from any of the 5 permanent veto-wielding members of the Security Council effectively renders the PA application a dead letter.
Abu Yousuf explained the PA leadership had decided on "a strategy based on continuous efforts along with the international community to secure full recognition and UN full membership, pursuing internal reconciliation, and keeping up the popular resistance."
Continued cooperation and negotiation with Israel was no longer a part of the PA's future course, he added.
The threats by officials in Ramallah to cancel security cooperation and downgrade ties with Israel are a step down from threats earlier this year that it would shut itself down if Israel didn't comply with its demands.
At the time a source in the office of Prime Minister Binyamin Netanyahu said, while Israel would prefer the PA not close its doors, "it wouldn't be the end of the world."