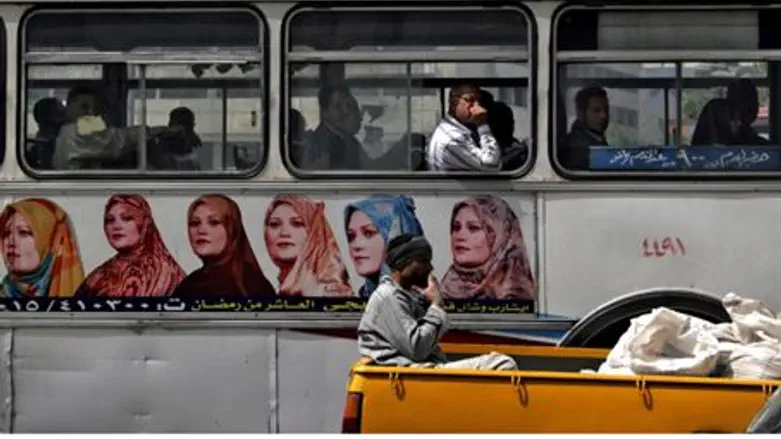 Egyptians on segregated Cairo bus
Israel news photo: Flash 90
The head of the Egypt's Salafi movement says the party will honor the country's 1979 peace treaty with Israel.
The top two Islamist parties in Egypt won an overwhelming majority in the first two phases of the country's parliamentary elections. The Muslim Brotherhood's Freedom and Justice Party is in the lead, but the Salafi al-Nour party is not far behind.
Al-Nour party chairman Emad Abdel Ghaffour said Tuesday at a news conference in Cairo prior to a parliamentary election runoff, "Treaties that Egypt has signed must be upheld, and we intend to respect them." 
Party spokespersons told journalists Wednesday the matter was "still being reviewed."
Balancing his statement, Ghaffour also claimed that Israel had not implemented certain clauses in its treaty with Egypt regarding the Arab population which at the time inhabited Judea, Samaria and Gaza, parts of which eventually comprised the Palestinian Authority.
"There are several clauses that must be enacted in order for the Palestinians to feel they have gained from the peace process," Ghaffour told reporters.
Among the clauses referred to were "a solution to the Palestinian issue, their right to self-determination, self-governance and the creation of a Palestinian state on Palestinian land."
A medical doctor based in Alexandria, Ghaffour also said his party, which adheres to one of the most conservative movements in Islam, would be open to making "changes" to the treaty. However, he did not offer details on what those might be.
Salafi Muslims are committed to the establishment of an Islamic state -- a Caliphate -- based on a legal system under Shari'a (Islamic) law. Al-Nour has thus far garnered some 30 percent of the vote in the first and second phases of Egypt's parliamentary elections, with only one more phase polling nine more districts to go. 
The electoral process itself has been anything but peaceful, with protesters demanding the ruling military council expedite its transfer of power to civilian authorities, and thousands of women stepping up this week to protest against military brutality against female demonstrators.