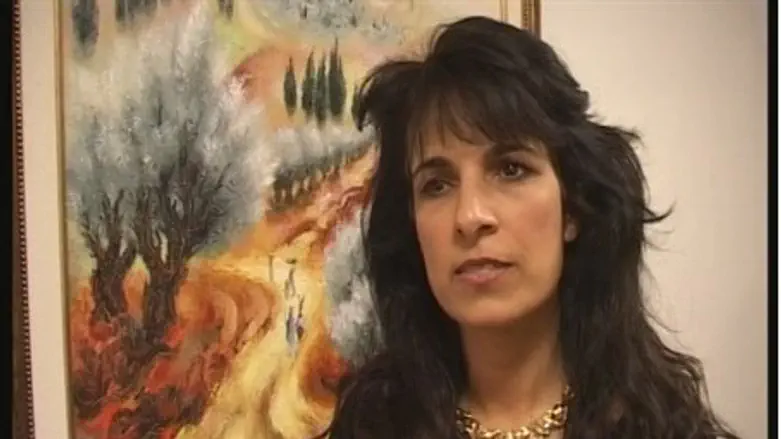 Attorney Nitzana Darshan-Leitner
Israel news photo: Yoni Kempinski
While the death of North Korea's leader in the past 17 years, Kim Jong Il, may seem like it is not connected to Israel, Attorney Nitzana Darshan-Leitner who heads the Shurat HaDin organization, reminded on Monday of the connection between North Korea and terrorism in the Middle East.
"North Korea has been involved in the conflicts in the Middle East for many many years," Darshan-Leitner told Arutz Sheva. "It began in the 1970s in the terror attack that happened in the Lod Airport."
The terror attack on what is today known as the Ben Gurion International Airport was carried out in on May 30, 1972 by a group known as the Japanese Red Army. Three terrorists from the group, acting on behalf of the Popular Front for the Liberation of Palestine (PFLP), arrived at the airport aboard an Air France flight from Rome. As they entered the waiting area, they began to fire indiscriminately at airport staff and visitors, and tossing grenades as they changed magazines.
26 people were killed in that attack and 80 were wounded. Two of the terrorists were killed and the third one was caught.
The connection to North Korea, Darshan-Leitner said, is that the country supported the Japanese Red Army. Shurat HaDin filed a lawsuit on behalf of 17 of the victims of the attack - Christian pilgrims from Puerto Rico who came to visit the Holy Land.
"We were able to prove that North Korea was responsible for the attack and were able to get a judgment against North Korea for $378 million," she explained.
Darshan-Leitner noted that North Korea's connection to terrorism in the Middle East did not end there, but continues to this day.
"North Korea was the country that helped Iran build its nuclear bunker," she said. "The Iranians saw that the North Koreans were doing a great job so they sent them to south Lebanon to help Hizbullah build their tunnels. According to a report by the State Department, these are huge tunnels – 25 kilometers in length – which facilitated Hizbullah to shoot missiles towards cities in northern Israel in the Second Lebanon War."
She explained that North Korea's interest in helping terrorist groups is that it is a Communist country which seeks to destroy the West.
"Therefore," she said, "North Korea has great connections with Iran, helping them to build their nuclear program, and it has great connections with the Palestinian terror organizations in the Middle East. They are fighting the West and Israel is a representative of the West in the Middle East."