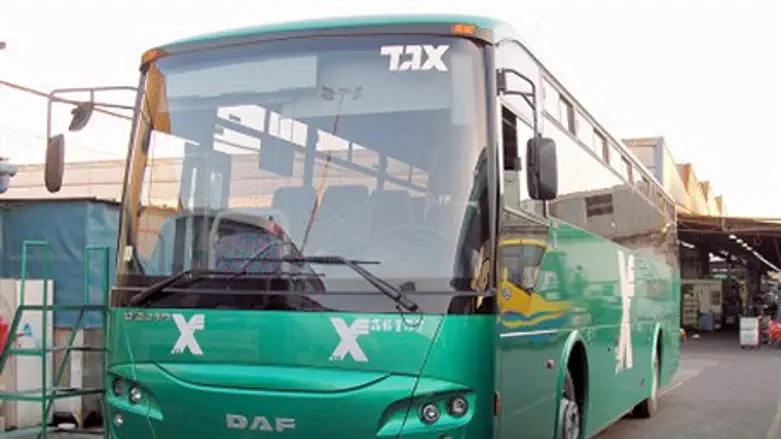 Egged Bus (Archive)
Israel news photo: Egged
Israel Police Commissioner Yochanan Danino is vowing to implement a "zero tolerance" policy on gender discrimination against women in public venues. Danino ordered his officers to enforce the policy Monday after a series of incidents in which women had been allegedly harrassed by hareidi religious men in public areas.
Condemning "any attempt to harm the rights of women," Danino informed police commanders effective Monday, any form of discrimination against women must be addressed as a public disorder incident, or as a criminal offense.
The treatment of women by hareidi religious men on buses running on the mehadrin routes of the Egged bus lines between cities with major hareidi religious populations has been raised as an issue repeatedly over the past several years.
Recently it was raised once again when Tania Rosenblit, a secular media producer, got on the # 451 bus from Ashdod to Jerusalem and insisted on sitting behind the driver -- making sure to capture the proceedings on camera while engaging in dialogue with the hareidi-religious passengers, the bus driver and finally, police.
Rosenblit, who has been likened to an "Israeli Rosa Parks," is being praised in leftist quarters for "standing up to hareidi gender segregation as the original Rosa Parks stood up to racial segregation -- but most Israeli media have ignored the fact that unlike Rosa Parks, Rosenblit was shouting and even threatened at one point to take off her clothes.
Opposition Kadima party leader Tzipi Livni weighed in by praising Rosenblit and railing against "ideological fanatics who seek to turn Israel into an isolated Halachic state."
But the issue has nothing to do with Halacha (Jewish law).
Many hareidi religious Jews are also being unmercifully harrassed by what one passenger on the Egged line from Arad to Jerusalem called "the Jewish Taliban."  Eli L., himself a hareidi religious passenger, told Arutz Sheva in a telephone interview that he was at first asked politely to separate from his wife and two young sons when riding back to Jerusalem on a recent Saturday night after visiting his family in Arad.
When he declined, pointing out that his wife could not manage two lively babies alone, "the Chassidic man who appeared to be managing the route in the neighborhood got ugly about it and tried to pressure us into separating anyway," he said. "We were sitting close to the middle, because we knew there was an issue about men's and women's sections -- but I didn't care. It is permissible in Jewish law for a man to sit together with his wife on a bus."
Several other Chassidic couples who had spent the weekend at the local mehadrin resort hotel were also being pressured into separating, he continued, and they likewise refused. Ultimately, the bus driver was ordered by the Chassidic route manager to take the bus and all its passengers to the police station, where local officers insisted that the passengers must indeed separate, "for the sake of peace."
The couple arrived in Jerusalem much later than they planned, he added. "We left Arad more than an hour later than scheduled because of this business," he said. "It put a sour note on an otherwise really nice place to visit."
The issue of a woman's role in Judaism in general has been at the center of controversy in recent weeks. Even U.S. Secretary of State Hillary Clinton stepped out to comment on the matter during a speech earlier this month at the Saban Forum in Washington D.C., albeit without any real understanding of the issue.