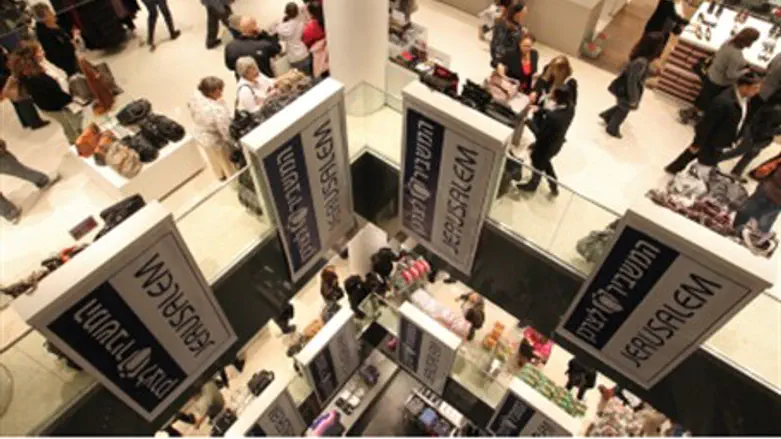 A new mall in Jerusalem
Israel news photo: Flash 90
Israel's standard of living now is two-thirds as high as the United States, Bank of Israel Governor Stanley Fischer said Sunday, a far cry from the material standard of only a few years ago.
The days of American immigrants returning from visits to the United States with peanut butter, toilet paper and electronics equipment have more or less vanished as American-like malls have sprung up throughout Israel, stocked with almost every item that can be bought elsewhere.
The gap in the standard of living, when compared to overseas, used to be far greater and has narrowed with the economic boom since 2002. However, Fischer, speaking at the Conference on Corporate Governance, Family Firms, and Economic Concentration, at Hebrew University,  put his emphasis on the one-third gap between the two countries.
"Prices in Israel are high," and the standard of living "is not the same as in the United States, but about two-thirds as high," he said.
"The Israeli economy is open, but there are aspects that are closed. It is very hard to find inexpensive cheese," Fischer said. "Our real income is high, but our standard of living is not the same as in the United States.
"There is a feeling that this is a result of over-concentration, but it is also connected to agriculture that is not over-concentrated, but that does benefit from much protection." He noted that the same situation exists in many countries around the world.
"Israel is between Belgium and Hong Kong, just below Singapore," Fischer stated. "This is not an unusual situation, but that does not mean that it is the desired one. Even if you are like all the rest, that doesn't mean that you shouldn't aspire to be better."
As if on cue, the Cabinet Sunday approved a measure to reduce oligarchies. It decided to open up the gasoline market to more competition by allowing more gas stations and reducing the bureaucratic delays for permits for new stations.
Other measures approved will open up more competition in the domestic cooking gas market and mass transit.