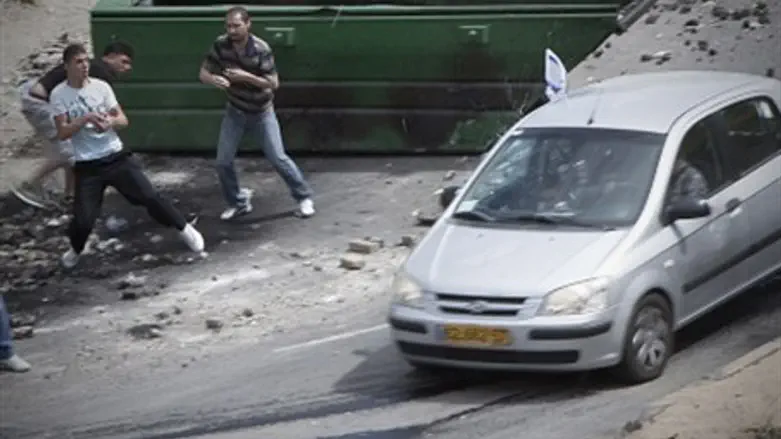 Arabs attack car (file)
Israel news photo: Flash 90
Palestinian Authority Arabs targeted motorists Thursday afternoon in what is starting to again become a common phenomenon on the roads of Judea and Samaria, as it was in the days of the 2002 Second Intifada. In September of this year, in fact, the number of such attacks had more than doubled in comparison to the figures for September 2010.
The attackers hurled rocks at motorists as they passed near the Jewish city of Ariel, referred to as "the capital of Samaria" and located about 60 kilometers (37 miles) north of Jerusalem.
One Israeli woman was wounded when her vehicle was targeted by the terrorists as she passed on the road.
A bus with Israeli license plates was targeted in the same incident.
Several other vehicles sustained damage in a number of other attacks on the same road, possibly by the same terror gang.
Rock attacks
can be deadly
, as they are indeed
intended to be
, causing the driver to lose control of the vehicle and crash the car. That is precisely how two Jewish residents of the Judean city of Kiryat Arba -- Asher Palmer and his baby son Yonatan -- lost their lives in September.