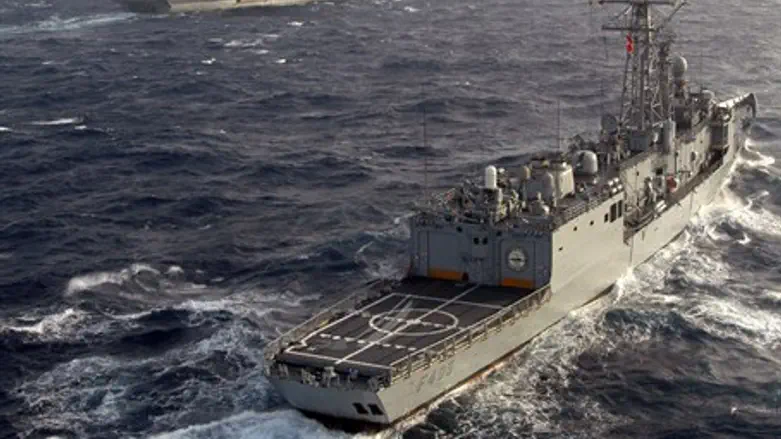 Turkish vessel (right) in an exercise
U.S. Navy
Egyptian navy ships were on their way to the waters off Turkey Thursday afternoon, where they will rendezvous with Turkish navy vessels for a joint exercise. Egypt's top naval commander, Muhav Mamish, said in an interview that the the exercise is "not directed against any specific country, and is designed to strengthen ties and exchange information between Turkey and Egypt." The name of the exercise, Voice of Israel radio reported, was "Sea of Friendship."
Israeli officials speculated that the exercise was not necessarily aimed at Israel, but against Iran, which has both Turkey and Egypt worried. Turkey, long a rival with Iran for leadership of the Islamic world, is concerned over recent Iranian threats against it. In recent weeks, Iranian officials have threatened Turkey with attack if the U.S. or Israel attempt to attack its nuclear facilities. Iran, the officials said, would attack the NATO missile shield.
A report Sunday, for example, quoted Hussein Ibrahim, the vice president of the Iranian parliamentary national security and foreign policy panel, as saying that "it is Iran's natural right to target the missile defense shield system in Turkey in case of an attack, and we will definitely resort to that." Several days earlier, Gen. Amir Ali Hajizadeh, the head of Iran's Revolutionary Guards' aerospace division, said that "should we [Iran] be threatened, we will target NATO's missile defense shield in Turkey and then hit our next targets."
Other Iranian officials have made similar statements in recent weeks. On Tuesday, Turkish Foreign Minister Ahmet Davutoğlu met with his Iranian counterpart Ali Akbar Salehi and questioned him on the statements, but Salehi said that the comments did not represent Iranian policy, but the "personal opinions" of officials.
Meanwhile, say analysts, the Egyptian military is seeking friends outside the Iran/Islamic fundamentalist orbit, considering that the country is likely to be run by those groups in the near future. Thursday was the second day of the second round of voting in Egypt's first democratic election in decades, and once again, the Islamist parties – the Muslim Brotherhood and Salafist al-Nour party – are said to be doing very well, according to informal polls by Egyptian and foreign media. This round of voting is taking place in areas such as Giza, Luxor and Aswan, which in the past have favored conservative Islamic candidates in local elections. Egyptian military leaders believe that there is a close connection between the Islamists and Iran, and are thus seeking to improve their ties with Turkey, the only other country in the region they believe can take  on Iran politically.