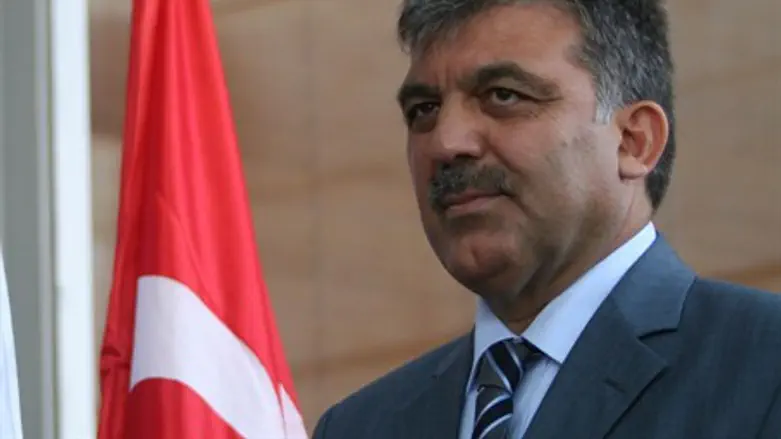 Turkish President Abdullah Gul
Israel news photo: Flash 90
Turkish president Abdullah Gul on Sunday said Israel should take advantage of the changes in the Middle East to achieve peace with the Palestinian Authority and the entire Arab world, the Turkey-based Today's Zaman reported.
Speaking upon his return from Vienna, where he snubbed an official lunch on Friday because of the presence of Defense Minister Ehud Barak, Gul told local reporters that Israel had not yet understood the reason for Turkey's anger with the Jewish state. He added that in order to return to normal relations with Turkey, Israel must achieve peace with the PA and other Arab countries.
Gul added that Israel should take advantage of what he called the "efforts for democracy" being made as part of the Arab Spring, and added that the period of Arab dictators backing the IDF operations in Gaza was over.
"As the democracy in the Middle East grows, Israel will eventually have to stop the violence in 'Palestine'", he was quoted as having said.
Gul also claimed that Khaled Mashaal, head of the Hamas terror group, is a supporter of democracy and is willing to live in peace alongside Israel. Gul based his remarks on statements made by Mashaal during a visit to Turkey in June.
On Friday, Gul refused to attend a formal lunch in Vienna after being informed that the event was attended by Israeli Defense Minister Ehud Barak, choosing instead to visit a residential neighborhood of Turkish immigrants in the Austrian capital.
Both men were in town for the two-day World Policy Conference.
The deterioration in the relationship between the two countries began when Turkey demanded that Israel apologize for the deaths of nine Turkish nationals onboard the Mavi Marmara in May of 2010. The Turkish citizens were killed when Israeli soldiers who boarded the Gaza-bound ship were forced to open fire after being attacked by the activists on board with clubs and knives.
Prime Minister Binyamin Netanyahu refused to apologize for the incident, and Turkey responded by downgrading its diplomatic ties with Israel.
Turkish Prime Minister Recep Tayyip Erdogan further deteriorated the tense situation when he chose to verbally attack Israel on several occasions.