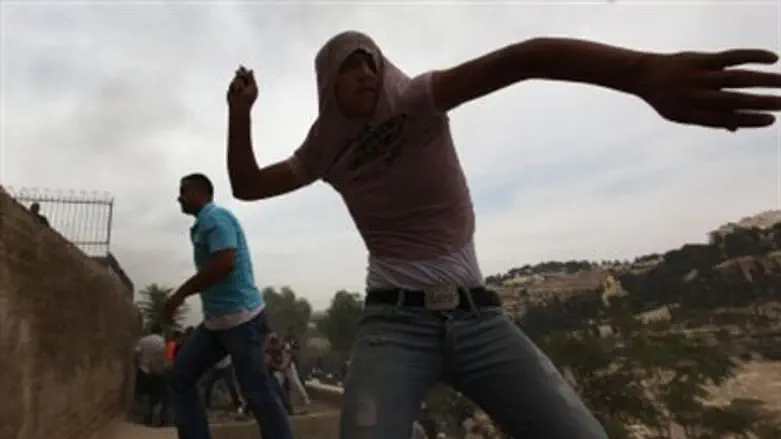 Rock throwing (archive)
Israel news photo: Flash 90 (file)
The IDF is investigating the death of a PA Arab rioter after he was hit by a tear gas cannister while hurling rocks at IDF soldiers during a riot at the Arab village of Nabi Saleh in Samaria on Friday. 
The riot erupted as part of a weekly protest that stems from what residents of the village insist is the illegal confiscation of Arab land.
A statement from the IDF Spokesperson's Office said Friday, "100 Palestinians protested in Nabi Saleh and hurled rocks at the security forces, who responded with crowd dispersal methods. We received a report that one of the rioters was injured in the head. He was treated and evacuated by an IDF force to an Israeli hospital. The incident is being investigated."
Witnesses said Mustafa Tamimi, one of the prominent protesters and a resident of the village, was hurt when the back of and IDF patrol vehicle opened and IDF soldiers shot a tear gas cannister out of the back. Tamimi was standing several yards away and was allegedly hit in the head and seriously hurt by the tear gas cannister.
He died Saturday at Rabin Medical Center in Petach Tikva. Rioters claimed that four other people were slightly wounded in clashes with IDF soldiers.
PA government spokesman Rassan Khatib called on the international community to "stop the Israeli army's brutal acts against nonviolent Palestinian protesters."
Arabs have been rioting nearly every Friday against the existence of Neve Tzuf -- located just 15 minutes from the central Israeli city of Modi'in -- for years, egged on by foreign anarchists and members of the Israeli extreme leftist organization B'Tselem.
Nabi Saleh is home to some 530 residents according to the most recent census. Tamimi is the most prominent family in the village.

The village is also the location of the An Nabi Saleh Cultural Center, a blue-domed building complex associated with the shrine of the "prophet Saleh" (the Biblical Shelah, (Yehudah) Judah and Leah's third son -- (Yaakov) Jacob's grandson). The complex, built in the 19th century during the Ottman period, underwent a massive $63,000 renovation in 2003, funded primarily by Sweden.
Located in the southwestern hills of Samaria (Shomron), in the Binyamin region, Neve Tzuf is built on the ruins of a Jewish village dating back to Talmudic times and today is home to approximately 250 families.
As far back as 2008, questions over the town's borders and issues over threats to its security have dogged the community.
In January 2010, some 200 PA Arabs, leftists and foreign anarchists rioted at Deir Nizam, also adjacent to Neve Tzuf, hurling rocks at IDF soldiers and Border Guard officers. Two security officers were wounded in the melee, including one who was hospitalized for a facial injury. Seven of the rioters were arrested, including three women.
This past summer, neighboring Arab villagers
set fire to buildings
and vineyards belonging to the community's residents in continuing vandalism and protests.