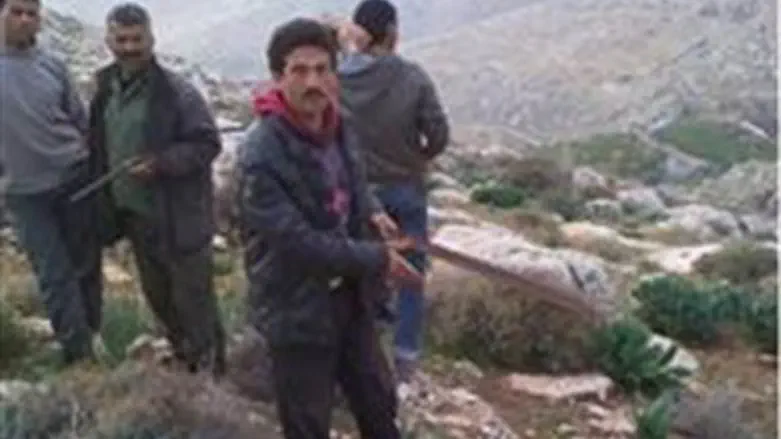 Arab rioters in Itamar
Samaria Residents' Council
Arabs from the village of Akraba infiltrated an agricultural area in the town of Itamar on Thursday morning. The Arabs came looking for a fight – equipped with metal bars and sticks, stones and other items. The entered an area where some Jewish residents of the town were grazing a flock of sheep and attacked them, inflicting injuries on some of the shepherds. The Arabs also threatened to come back later that night for another attack – this time with guns.

The shepherds called for help from IDF troops, who were attacked as well when they arrived. Two Arabs who attacked residents and soldiers were arrested. A resident of the town managed to take video of the attack. Security staff of the yishuv filed a complaint with police Thursday afternoon over the attack.

Residents said that they saw the Arab attackers taking instructions over the phone from leftist groups – including the "Rabbis for Human Rights Groups," which consists largely of Conservative and Reform rabbis who have made it their mission to help Arab villagers in Judea and Samaria fight against Jewish residents.

Only two weeks ago, a spokesperson for the Samaria Residents' Council, officials of the Civil Administration denote the specific borders of the area belonging to Itamar – which Arab agricultural workers are not allowed to use, or even to enter. Nevertheless, the Council said, Arabs continued to seek ways to sneak onto Jewish land in Itamar, and Thursday's attack showed just how far they were willing to go – with a premeditated attack on Jewish shepherds who had done nothing to provoke them.

In the wake of the incident, Samaria Council head Gershon Mesika said that the incident was "serious, consisting of an attack on civilians and soldiers. I call on police and the IDF to act against these rioters and criminals – both for the attack, which could have ended in tragedy, and for their illegal entrance into Itamar," he said.