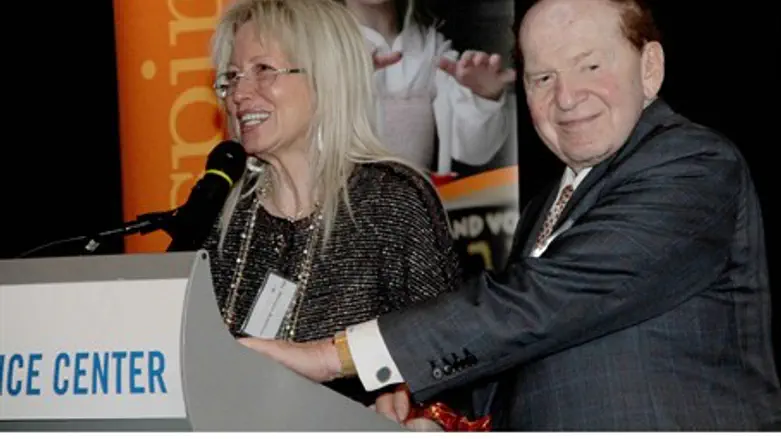 Dr. Miriam and Sheldon Adelson at a Birthrigh
Israel news photo: Billie Weiss/Birthright Israel Foundation
Philanthropists Dr. Miriam and Sheldon Adelson announced on Wednesday an additional $5 million gift to Taglit, the Birthright Israel Foundation, for 2011, thus raising their total contribution to $10 million for this year.
The Adelson Family Foundation has contributed over $100 million to Birthright Israel since 2007.
Following the Adelsons' announcement, Taglit-Birthright Israel is now sending letters to 2,000 North American young adults who had applied for a trip this winter but were waitlisted, informing them that they will now be able to go on the trip thanks to the new funding. Nearly 22,500 North Americans had registered for Taglit-Birthright Israel trips this winter and over 10,000 young adults had been waitlisted.
Now, as a result of the Adelsons' generous gift, global participation in winter trips will reach 17,000 from 32 countries.
Taglit-Birthright Israel offers the gift of a free, ten-day educational trip to Israel for young Jewish adults between the ages of 18 to 26.
The word Taglit means "discovery" in Hebrew and the program offers participants a chance to discover the Jewish homeland and their fellow Jews.  The trip aims to strengthen the Jewish identity of the individual participants and their connection to Israel as well as to promote world wide Jewish unity by having Jewish young people from diverse countries get to know one another.
Since its establishment in 2000, Taglit-Birthright Israel has given free trips to more than 280,000 young Jews from more than 50 countries.
As a byproduct, over the past decade, Taglit-Birthright Israel has contributed over 1.5 billion shekels to the Israeli tourism industry.
"We couldn't bear seeing thousands and thousands of young adults who wanted to visit Israel not able to go," Dr. Miriam Adelson said. "Greater participation means we can change the lives of more young adults."
"We want to have an impact and we believe that Birthright Israel is the best Jewish program in this generation," Sheldon Adelson added. "My parents always wanted to go to Israel but never made it. I made a promise that I would do everything I could to help any young person who wanted to visit Israel through the Birthright Israel program be able to do so."
The Adelsons said they will also be actively supporting upcoming Birthright Israel Foundation fundraising efforts this month, attending events in Washington DC, Philadelphia and New York, hoping to encourage others to follow their lead.
"This is a direct, tangible contribution to the Jewish people," said International CEO of Taglit-Birthright Israel, Gidi Mark. "This year alone, the Adelsons will enable a total of 4,000 young adults to visit Israel. These are 4,000 lives changed. These are 4,000 people who almost certainly will identify more closely as Jews and with Israel."
The Israeli government also supports Birthright and Prime Minister Binyamin Netanyahu earlier this year announced an increase in the budget for Birthright. The government will provide NIS 90 million for the program in 2013, with further increases to NIS 120 million and NIS 140 million in the following two years. During its first ten years of existence, Israel's government spent about NIS 100 million altogether on Taglit.
The IDF also takes an active part in the Birthright tours, with army soldiers accompanying the Birthright participants and helping them feel at home during their trips. To date, approximately 40,000 IDF soldiers have taken part in Birthright tours.
Taglit participants are the most enthusiastic advertisement for the program, saying that they come back from the trip with a deeper understanding of Israel, its people and its culture. Many express their desire to make aliyah.