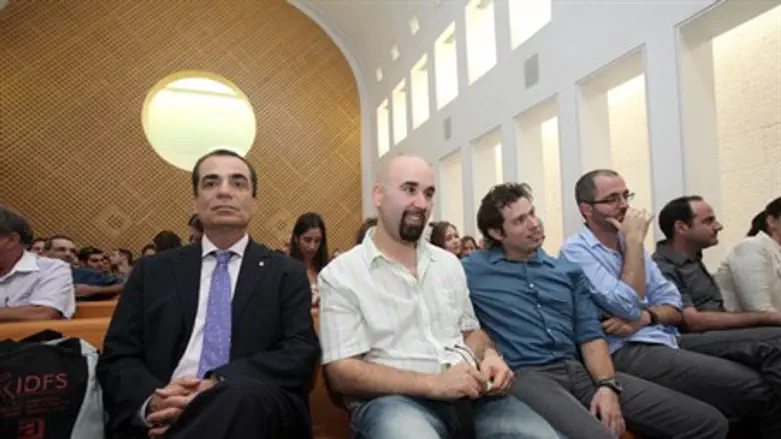 Interns at the Supreme Court
Israel news photo: Flash 90
The Supreme Court ruled on Thursday evening that the medical interns will have until Sunday to decide whether they are willing to re-negotiate with the Treasury for a period of two weeks.
The interns will discuss the matter among themselves and then announce their decision. According to the decision made by Supreme Court President Justice Dorit Beinisch, if the interns decide to resume negotiations, they will return to work on Sunday and the parties will then return to the negotiating table. At the same time, state officials will pull the petition they filed to the National Labor Court and which claims the interns committed contempt of court by walking out on their jobs earlier this week.
Beinisch also said in her ruling that if the interns decide not to resume negotiations with the Treasury, they will need to submit a response to the National Labor Court regarding the petition on contempt of court.
According to the ruling, if the interns choose to negotiate, negotiations will last for about two weeks and will accompanied by a third party that will help the two parties overcome their differences.
Meanwhile, Prof. Shlomo Mor Yosef, former Director of the Hadassah Medical Center in Jerusalem, was appointed on Thursday evening by Deputy Health Minister Yaakov Litzman as a special consultant who will deal with the doctors crisis. The Ministry of Health said that Mor Yosef will report to Litzman and that the Ministry's Director-General, Dr. Ronni Gamzu, will continue as usual in his position.
Earlier on Thursday, Beinisch slammed the manner in which the interns were seeking to push the state to negotiate a separate deal with them.
Beinisch said that the interns, by continuing to defy the lower court's order and filing mass resignations, were acting in bad faith.
The interns in state hospitals were supposed to be covered by a labor agreement that the government signed with doctors' unions in August, but have since claimed that they were not consulted on that deal and were unable to agree to its conditions, because it did not deal with their problems – specifically the extra shifts and extended hours many of them are required to take on, for very low pay.
The government has held talks with the interns to see how the situation can be resolved, but has made clear that it will not renegotiate the signed agreement, or sign a separate deal with them.
Meanwhile, interns and specialists continued their resignation campaign Thursday, with many filing their second letter of resignation in as many months. On Thursday afternoon, another dozen interns at Meir Hospital in Kfar Saba submitted letters of resignation, bringing the total number who plan to quit their jobs at that facility to 65.