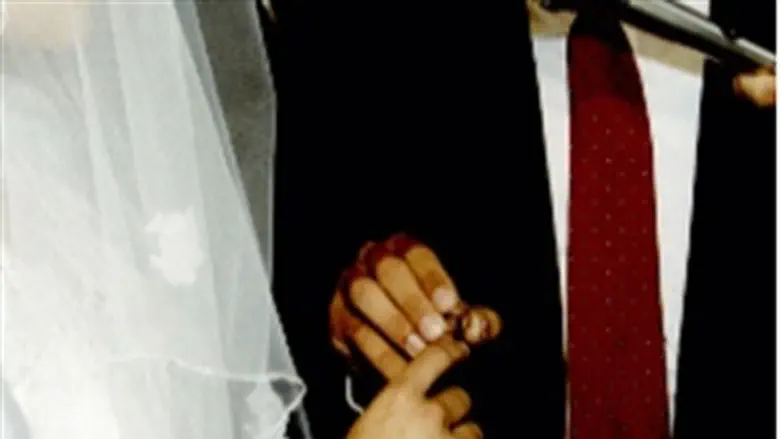 Jewish wedding
Israel news photo: Flash 90
'My Big Fat Jewish Wedding Expo' – the first of its kind interactive Jewish wedding expo – is coming to Brooklyn, the home of precisely such world-famous ethnic blockbusters.
The event, which will feature vendors offering the full spectrum of Jewish wedding products and services, is set to be held Tuesday, November 29 from 6 pm to 10 pm EST in the neighborhood's historic Grand Prospect Hall.
Metro New York nights are often busy during the year with silk and satin-clad Jews celebrating the start of a new family in the House of Israel.
"These kosher affairs usually take months of preparation – including the anxiety-ridden visits with a host of caterers, bands, photographers, florists, jewelers and others in order to plan the 'perfect' wedding," Avi Werde, president and founder of ECS told Arutz Sheva.
Werde said the expo is intended to take some of the pain out of that process with an interactive component, allowing prospective brides and grooms to actually try out different options.
"For example, caterers will create sample dishes for prospective clients, while florists will design custom centerpieces," he explained.
Among the expo's offerings will be a bridal gown fashion show, live Jewish wedding bands competing for clients and photographers taking pictures of shopping couples with instant photos, so clients can see the results.
Orthodox Jewish brides who will cover their hair after marriage will have the opportunity to visit with wig makers as well; the Israel-based Galit Italia wig company will be showing its latest offerings at the expo, said owners Dovi and Racheli Chaimson.
"Brides and grooms will be able to build their dream wedding from the ground up, all in one evening," Werde said, adding that the event is designed to cater to the full spectrum of the Jewish community, both in observance and in budget.
"The interactive experience – being able to actually touch and see the products 'in action' – will take away the guessing, so you will know exactly what you'll be getting," he said.
For further information, call 1-800-886-0481. Arutz Sheva readers are eligible for free tickets to the event by clicking here.