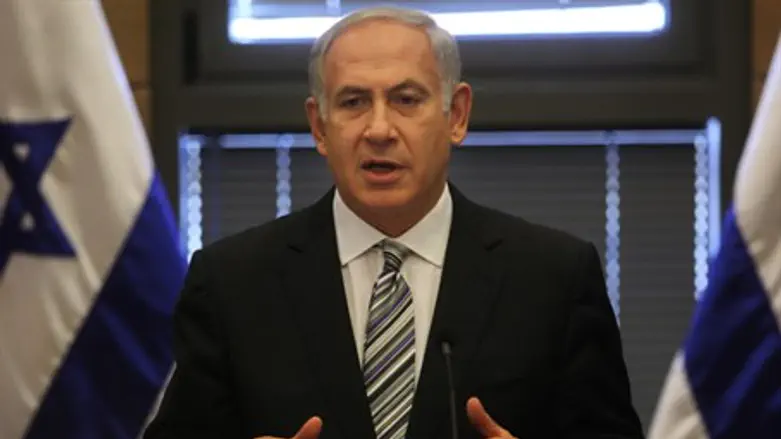 Binyamin Netanyahu
Flash 90
Prime Minister Binyamin Netanyahu is seeking to water down a bill seeking to curtail foreign donations to Israeli NGOs involved in domestic politics.
Netanyahu's opposition comes despite broad support for the bills within his Likud party and the ruling government coalition - leading critics to suggest he is out of touch with his own lawmakers and the Likud rank and file.
The bill, which would limit foreign donations to NIS 20,000 per annum, was approved by the Ministerial Committee on Legislative Affairs earlier this week. A second bill, which would deny the organizations of their tax-exempt status, was also approved.
Attorney General Yehuda Weinstein expressed strong opposition to the bill, prompting the Prime Minister's Office to urge MK Ofir Akunis, who initiated the bill, to revise it.
Akunis said, "Fundamentally there is no change – political foundations will be limited in receiving funds from foreign states as approved by the Ministerial Committee on Legislative Affairs."
The revised version of the bill would specifiy criteria for defining 'political organizations.' The amendment would ostensibly allow NGOs whose activities are purely charitable to receive foreign funds unhindered. Critics say, however, warn such an amendment may create loopholes political funds can be channeled through.
Netanyahu's push to limit the scope of the foreign funding law comes as he also moves to scuttle a law by Likud lawmakers that would require prospective Supreme Court judges to be vetted by a Knesset committee.
Earlier this month Netanyahu found himself at odds with the majority of Likud lawmakers when he asked them to abandon communities in Judea and Samaria facing demolition orders - contrary to the Likud's ideology.