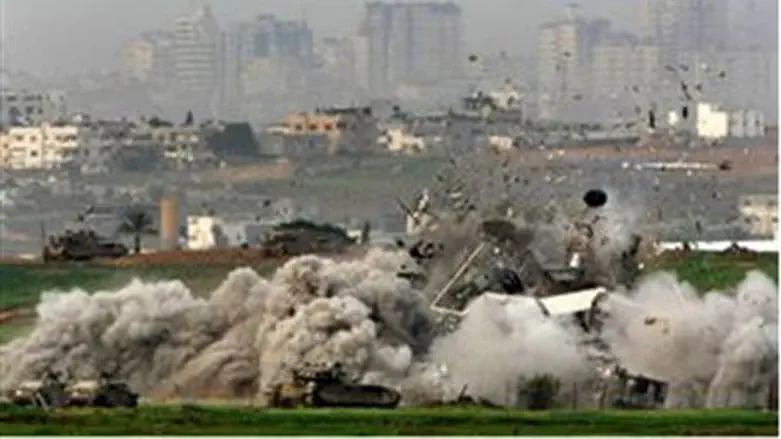 Operation Cast Lead
Israel news photo: Flash 90
The IDF's "tit-for-tat" response will be replaced by an offensive in Gaza if missile attacks resume, Chief of Staff, Lt. Gen. Benny Gantz told the Knesset Foreign Affairs and Security Committee Tuesday.
He told the Knesset Members on the panel that if Hamas and allied terrorists initiative a new round of fighting, "We will need to shorten the length of fighting as much as possible."
Improved intelligence has enabled the military to pre-empt dozens of terrorists' missile attacks on southern Israel.
The Air Force on Monday successful targeted a terrorist cell trying to launch advanced long-range missiles. At least one terrorist was killed and seven others wounded in the aerial strike, which General Gantz said "inhibited the advancement of Islamic Jihad's rocket production."
He also pointed out that potential trouble spots exist throughout Israel, especially in Judea and Samaria and at the Egyptian border, and that there is a constant threat of terrorists infiltrating from the Sinai and Judea and Samaria.
Gantz told the Knesset committee that the chance of renewed violence in Judea and Samaria increases in face of disappointment by the Palestinian Authority over its apparent failure to win recognition by the United Nations Security Council.
The Chief of Staff's political views over the years have been dovish. When he was commander of the Hevron Brigade, during the short period when those with dovish views thought the Oslo Accords might work, he invited the area's Jewish civilian security officers to meet with Palestinian Authority security officials in order to promote cooperation.
The Jewish communities' security officers rejected the invitation, not being willing to trade information. Shortly afterwards, the Oslo War, also known as the Second Intifada, broke out, with PA soldiers using rifles given to them by the Israeli government.