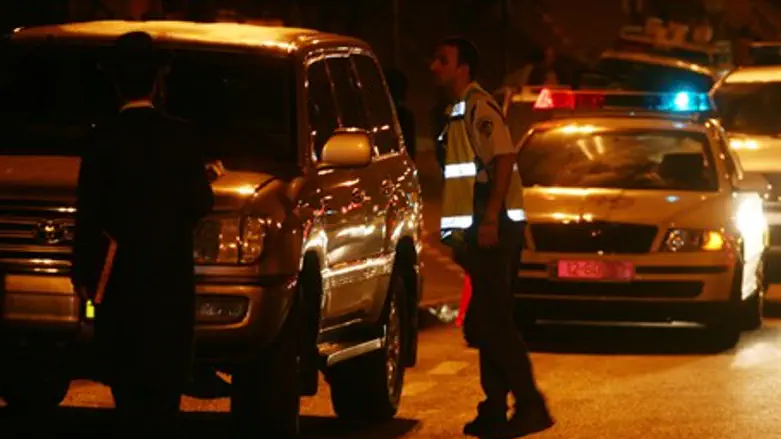 Arrest (illustrative)
Israel news photo: Flash 90
The police recently arrested a citizen of Jerusalem simply for responding to a Facebook status written by an extreme leftist.
The incident occurred this past week when Y (whose full name cannot be revealed for reasons of confidentiality) was surfing on Facebook. He came across a post by extreme leftist Dorit Eldar (a lecturer at Tel Aviv University), who was calling on Israelis to come and protest on Friday against the Jewish residents of Judea and Samaria.
Y told Arutz Sheva that Eldar was complaining in her post that several weeks ago as she and her friends were protesting and blocking the entrance to the Jewish village of Anatot next to Jerusalem, IDF soldiers in the area conducted a "pogrom", as she put it, against her.
"When I saw this post, I replied to her in a polite manner and told her that it's inappropriate and illegal to prevent people from entering their home," Y said.
"Two days later I was in my car," he continued, "when suddenly I got a call from the police asking me to come for questioning. I said I was on my way, and I never even thought it had anything to do with what I wrote on Facebook. Seconds after I got off the phone with them I was blocked by a police car that stopped me for questioning. They interrogated me for two hours."
He added, "They asked me what organizations I was a member of. I told them I was a member of Yisrael Sheli and of Im Tirtzu. They found in my car a spray for the wheels and accused me of using it to spray-paint graffiti (of the kind used in so-called "price tag" operations -ed.). They picked me up like a criminal with several illegal Arabs and only let me go home late at night."
Y said that while he was being interrogated at the police station, detectives came to his home and confiscated his personal computer and cellular phone. He has yet to get them back.
Y, who served in the IDF for three years as every citizen is required by law, said that he does not understand why he was arrested while extreme leftists, such as the one he responded to on Facebook, who speak against IDF soldiers and incite against Jewish residents of Judea and Samaria, are not detained.
"I am deeply hurt that the State of Israel is acting against people who truly love the country," he said. "It's a disgrace."