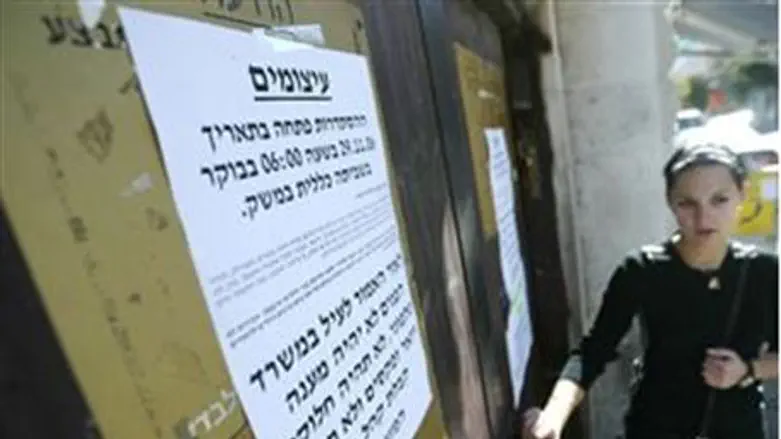 Strike (file)
Flash 90
The Histadrut national labor union has officially launched a general strike as of 6:00 a.m. (Israel time). The strike was launched after the National Labor Court failed to issue an injunction to prevent it.
A meeting of the court on the issue ended shortly after 3:00 a.m. (Israel time) Monday morning, and the court subsequently published a decision ordering the strike to end at 10:00 a.m. (Israel time) and for the sides to resume negotiations at that time.
The Histadrut has called the strike to protest conditions for workers contracted by manpower services, a method often used by employers to avoid tenure, paying benefits and higher wages, but also to be able to fire workers whom they feel are not up to par without being forced to adhere to the "last hired, first fired" rule, as the labor unions laws mandate.
To be closed:  
Clalit medical clinics, some hospitals [which will suspend elective services and work on Shabbat schedules]], banks, universities,ORT and Amal schools, boarding schools, public transportation (including the Ben Gurion airport from 8 a.m., bus and train services), and local and state government offices except for emergency services.
In addition, some museums and theaters will be closed as well as the Educational TV channel. The JNF, Jewish Agency, UIA, TA Security Exchange, and Mifal Hapayis (national lottery) are some of the institutions on strike.
Local authorities will not be open for public inquiries, municipal services will not be provided, and no parking tickets will be handed out.
The union of Defense Ministry employees has also announced that it will join the general strike, but essential services will continue to be provided.
The public is advised to check the availability of any service or office not mentioned above online or by phone.